Presidential Elections Program
2004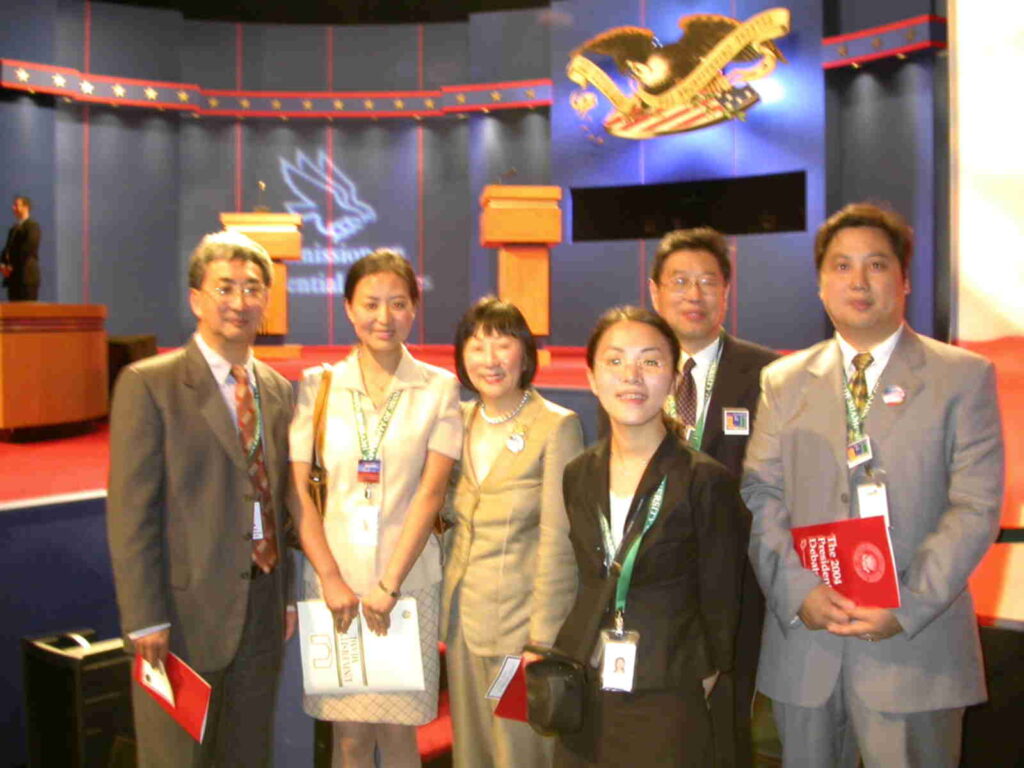 USCET welcomed a delegation of Chinese scholars in the final week of September 2004. These scholars had competed to be part of the Presidential Debate Delegation, which USCET believes was the first group of Chinese professors to view a presidential debate as members of the live audience.
USCET set up a program of briefings in Washington, DC, and the University of Miami, which partnered with USCET to sponsor this program, scheduled a series of events leading up to and following the September 30 Presidential Debate.
The debate delegation garnered some media attention among the Chinese press. An Oriental Morning Post reporter accompanied the group and wrote an article about the experience. Delegates also spoke with representatives of China's two leading wire services, and articles subsequently appeared in People's Daily and the International Herald Leader, as well as on SINA, one of China's primary Internet media sites.
2008
USCET's 2008 program (June 8-14, 2008) featured Frank J. Fahrenkopf Jr. and Don Fowler, two former party chairmen and respected veteran American politicians. Due to a sudden illness, Mr. Fowler was unable to travel. Frank Fahrenkopf ably carried on solo to discuss the role of the party in presidential elections and the strategies and tactics that win nominations and elections. Mr. Fahrenkopf engaged in enthusiastic and thought provoking discussions in Beijing and Shanghai, at the China Institutes for Contemporary International Relations (CICIR), Tsinghua University, the Shanghai Institute for International Studies (SIIS), and Shanghai Jiaotung University (SJTU).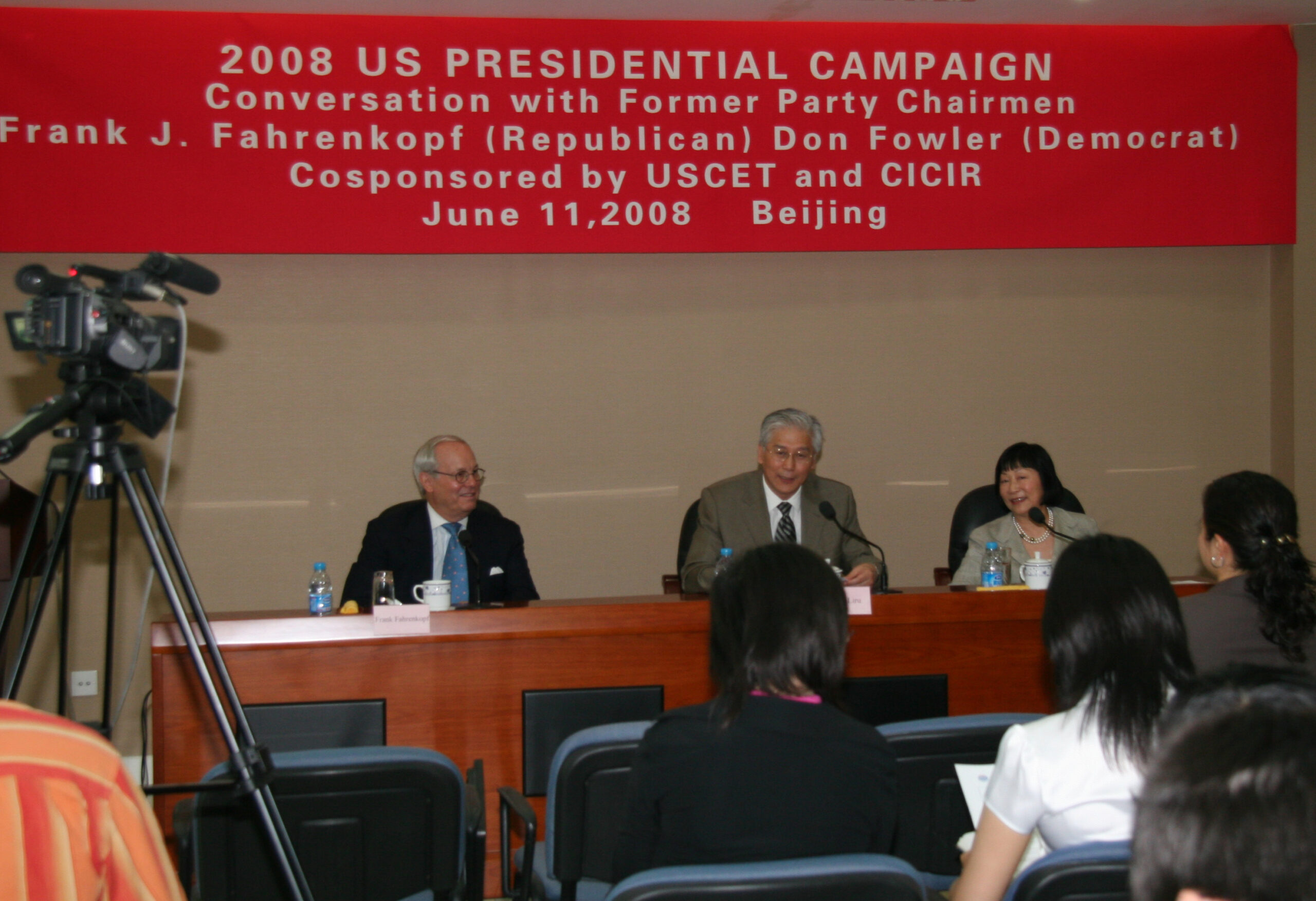 2012
USCET sponsored 2012 presidential elections programming at Tsinghua University and the Chinese Academy of Social Sciences (CASS). The programs were held on May 25, 2012, and built off the strong reputations of USCET's two preceding elections programs from 2004 and 2008. Frank J. Fahrenkopf, former Chairman of the Republican National Committee and co-chair of the Presidential Debates Commission, headlined the programs, speaking to over 75 engaged and enthusiastic attendees. Cooperation with Tsinghua Professor Sun Zhe and CASS Director Huang Ping helped ensure the programs' success.
Mr. Fahrenkopf began the day at CASS, leading a roundtable discussion on Primaries and the Road to the White House. After insightful discourse at CASS, he traveled to Tsinghua University's Center for US-China Relations to give a lecture entitled An Insider's View of the US 2012 Presidential Election and to participate in an engaging Q&A session.
The programs were well-received by all parties, and both CASS and Tsinghua eagerly await USCET's next round of elections programming in 2016. Read about Mr. Fahrenkopf's program at Tsinghua in the university's Center for US-China Relations May 2012 newsletter.
At the Chinese Academy of Social Sciences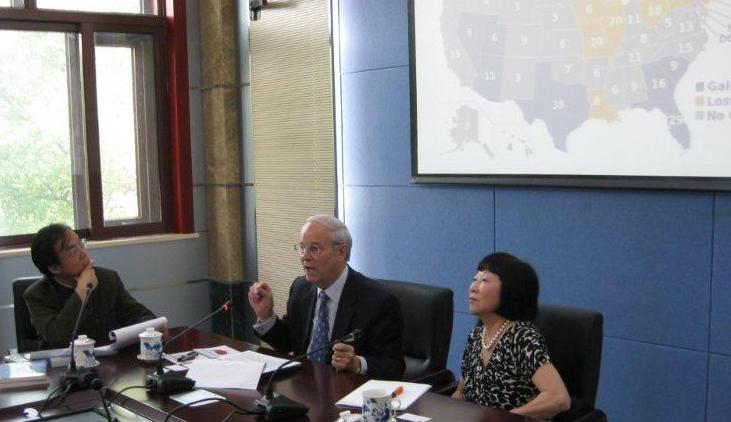 At Tsinghua University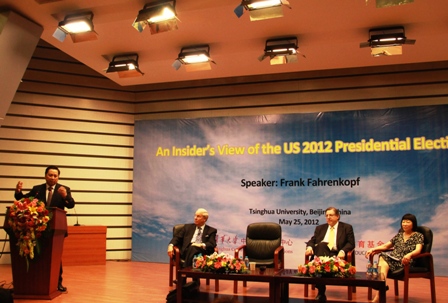 USCET thanks the Ford Foundation for providing support for its 2012 Elections programming.