Last Updated: December 19, 2022
Introduction
The 117th Congress Brings Efforts to "Out-Compete" China to a Close
By: Yilun Zhang, Research Associate, Institute for China-America Studies
China has become a central focus of the U.S. Congress over the past two years, as the Biden administration continues to emphasize U.S. strategic competition with China. As of mid-December 2022, the 117th Congress had proposed 839 bills and resolutions that mentioned "China," a number higher than was proposed in either the 115th or 116th Congress under the Trump administration.[1] Legislation that addressed China was proposed, discussed – and sometimes adopted as law –on a variety of issues ranging from trade policy, technology and innovation competition, and export controls, to measures that target specific regions, industries, and public or private practices. In the field of trade and technology, the most notable bill that became law is the CHIPS and Science Act, a trimmed-down version of the China competition bill.[2] At the same time, other major legislation under the Biden administration associated with the strategic competition with China, including the more domestic-focused Infrastructure Investment and Jobs Act and Inflation Reduction Act of 2022 have also become law
Widely regarded as a key legislative outcome of the 117th Congress, the CHIPS and Science Act superseded several other competition bills – the Senate's United States Innovation and Competition Act (USICA) and the House's America COMPETES Act (AmCOM). Signed into law on August 9, 2022, the CHIPS and Science Act would authorize $52.7 billion in funding to incentivize semiconductor manufacturing and innovation in the United States and provide more government support for research and innovation in the United States.[3] According to lawmakers, the White House and stakeholders, the bill aims to strengthen U.S. R&D, re-shore critical manufacturing sectors such as semiconductor production and, more generally, promote U.S. economic and scientific competitiveness. In describing the policy objective and purpose of the Act, the White House and congressional leadership put particular emphasis on "keep[ing] the United States the leader in the industries of tomorrow" and "regaining U.S. strength and reducing long-term supply chain vulnerabilities in critical areas," with special focus on technologies such as artificial intelligence, quantum computing, advanced communications technology/6G, advanced energy science and biotechnology. The CHIPS and Science Act and its precursors, (i.e., USICA and AmCOM) have been primarily labeled as "China competition bills," or "a comprehensive package" to compete with China and counter China's rise. The China factor has been particularly emphasized by lawmakers who support the bill.[4]
Despite passage of the CHIPS and Science Act and other China-related bills such as the Ocean Shipping Reform Act, the 117th Congress will leave a number of China-related provisions in the pipeline when it ends on January 3, 2023. These include a number of trade and foreign policy-focused provisions that were present in previous drafts of the competition bills as well as more controversial and ambitious provisions such as tariff reforms and outbound investment screening. And both chambers of Congress have proposed and discussed versions of a Taiwan Policy Act, some of which contained considerable technology and economic content. Title V of the Senate's Taiwan Policy Act draft, for example, aims at "enhanced development and economic cooperation between the United States and Taiwan" and emphasized Taiwan's role as a reliable partner "critical for diversifying our Nation's supply chains" and for reducing U.S. reliance on China. Despite a short section in the National Defense Authorization Act for Fiscal Year 2023 (NDAA 2023) on "expanding U.S. economic relations with Taiwan," the aforementioned contents were not included in enacted laws and resolutions of the 117th Congress.
---
[1] According to Congress.gov, the 116th Congress proposed 627 China-related bills and resolutions, while the 115th Congress proposed 288. Congress.gov, last accessed December 15, 2022, https://www.congress.gov/.
[2] The CHIPS and Science Act, House Committee on Science, Space and Technology, last accessed December 15, 2022, https://science.house.gov/chipsandscienceact; CHIPS Act of 2022, 136 Stat. 1372, Public Law 117-67, enacted August 9, 2022.
[3] CHIPS Act of 2022, Public Law 117-67.
[4] Chuck Schumer, "Majority Leader Schumer Floor Remarks On Final Senate Passage Of Chips And Science Legislation"; U.S. Senate Foreign Relations Committee, "Chairman Menendez Announces Bipartisan Comprehensive China Legislation," April 8, 2021, Chairman's Press, https://www.foreign.senate.gov/press/dem/release/chairman-menendez-announces-bipartisan-comprehensive-china-legislation.
Recent Analysis and Commentary
The CHIPS and Science Act Will Boost Competitiveness and Promote Inclusive Growth, Center for American Progress, December 8, 2022
CHIPS and Science Act Enshrines Policy for New NSF Technology Directorate, American Institute of Physics, November 23, 2022
After the CHIPS Act: The Limits of Reshoring and Next Steps for U.S. Semiconductor Policy, Carnegie Endowment for International Peace, November 22, 2022
Chips Act Won't Work Without Every Part of the Chip, Thomas Black, Washington Post, October 28, 2022
[PowerPoint] CHIPS and Science Act, Holland & Knight Public Policy & Regulation Group, October 6, 2022
The potential of the CHIPS and Science Act for rural America, Brookings Institution, September 29, 2022
The CHIPS and Sciences ACT of 2022 – The Impact on China, Dorsey & Whitney LLP, September 19, 2022
What the CHIPS and Science Act means for higher education, Jon Barnhart, EAP, September 12, 2022
S.4428: Gutting the Taiwan Relations Act, Carl Ford, The Footnote, August 31, 2022
Getting the Taiwan Policy Act Right, Richard L. Armitage and Zack Cooper, August 29, 2022
CHIPS and Science Act of 2022, Investopedia, August 29, 2022
A Look at the Science-Related Portions of CHIPS+, Center for Strategic & International Studies, August 11, 2022
Explainer: the CHIPS and Science Act 2022, United States Studies Centre, August 11, 2022
[Podcast] How three big bills in Congress will spur innovation and competitiveness, Dollar and Sense Podcast, Brookings Institute, August 8, 2022 [Transcript]
Can the CHIPS Act heal the nation's economic divides?, Brookings Institute, August 2, 2022
How Bernie Sanders and conservatives united against US semiconductor bill, The Guardian, July 31, 2022
Intel Shows Limits of Chips Act, Wall Street Journal, July 29, 2022
The CHIPS Act won't solve the chip shortage, Vox News, July 27, 2022
Why it matters that the 'CHIPS and Science Act' passed the Senate, MSNBC, July 27, 2022
Congress must pass the COMPETES Act and USICA to strengthen American science, Federation of American Scientists, July 1, 2022
Towards a Solution for Broadening the Geography of NSF Funding, Federation of American Scientists, June 15, 2022
Researchers criticize Senate plan to steer more NSF funding to 'have not' states, Science, June 2, 2022
Advance STEM education in bipartisan innovation and competition legislation, The Hill, May 24, 2022
Recent Developments on Bipartisan Innovation Act – Formal Conference Imminent but Prospect Remains Uncertain, National Law Review, May 3, 2022
Op-ed: U.S. Democrats press Congress to pass China tech competition bill to create jobs and shore up supply chain, CNBC, April 20, 2022
America COMPETES Act v. US Innovation and Competition Act—Summary of Key Differences and Takeaways – Part 2, Akin Gump, March 7, 2022
How a law to bolster US manufacturing and supply chains could usher in a new industrial era, PwC, March 1, 2022
"Will Congress Find Compromise on China Competitiveness Legislation? Sixteen Top Issues for the House-Senate Conference Committee," National Law Review, February 23, 2022
"The Competes Act Is No Way to Help the U.S. Economy," Bloomberg Opinion, February 22, 2022
"The House passed a bill aimed at boosting U.S. competitiveness with China," NPR, February 4, 2022
"House passes sweeping U.S. innovation bill, teeing up talks with Senate," Jeffrey Mervis, Science, February 4, 2022
"House Democrats release America COMPETES Act to negotiate comprehensive China legislation with US Senate," Emily Jenkins and Shelly Castle, JD Supra, February 2, 2022
"The America Competes Act: Let's make sure it helps us compete," Nadia Schadlow, The Hill, February 2, 2022
"U.S. Chamber Letter on H.R. 4521, the 'America COMPETES Act'," U.S. Chamber of Commerce, February 2, 2022
"The Biden Administration's Emerging Approach on 'Strategic Industrial Policy' and Proposed Lines of Effort," Sourabh Gupta, Institute for China-America Studies, January 24, 2022
Robert Sutter, US-China Relations: Perilous Past and Uncertain Future, 4th Edition (Rowman & Littlefield 2022) [Note: See pp 167-182 for more information on legislation in the 116th Congress]
What are US Leaders Saying?
Videos
Tweets
Official Press Releases
Legislation Timeline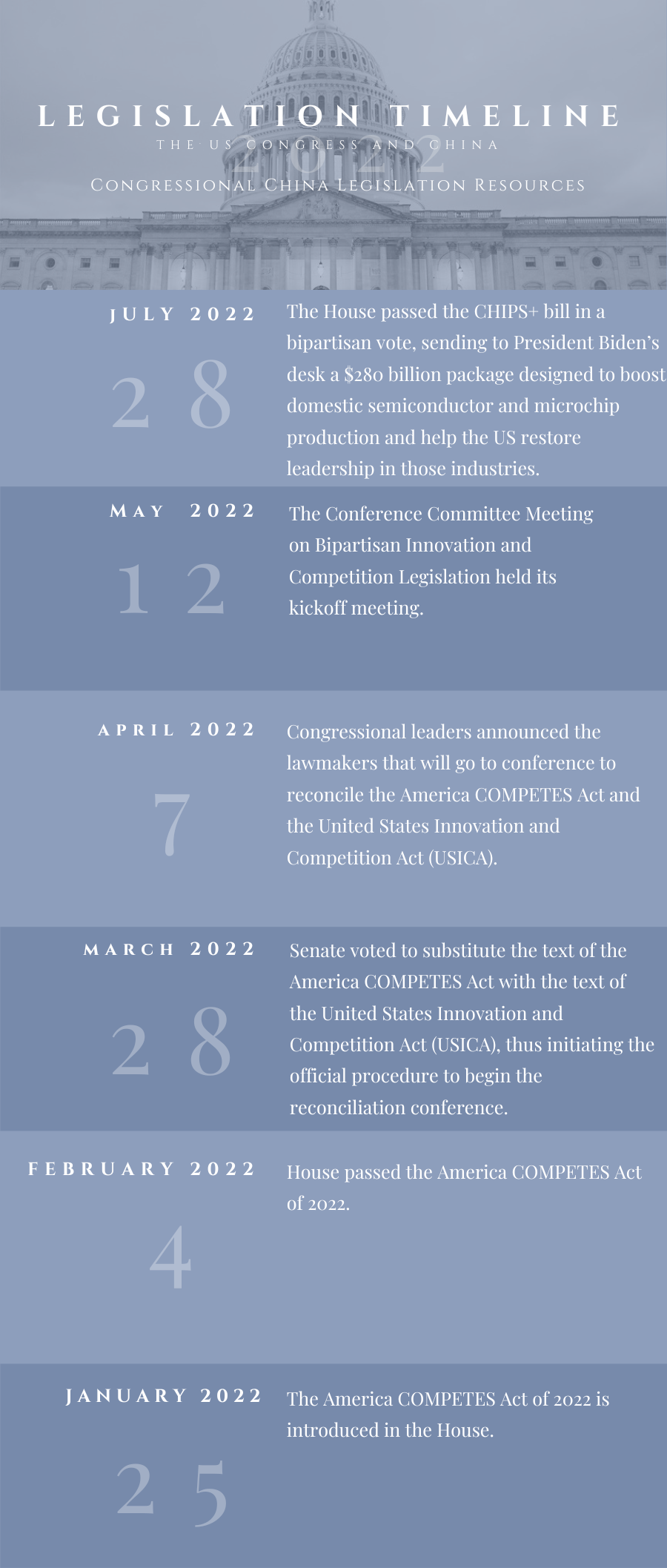 Current and Pending Legislation
*Status: Became public law on August 9, 2022.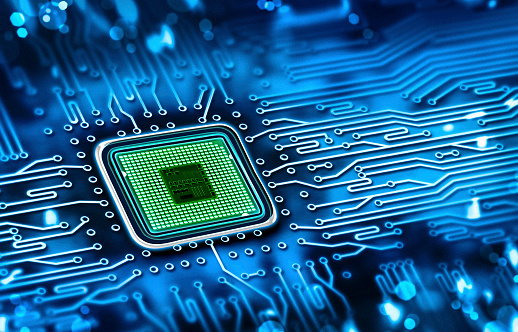 Creates a Commerce Department program that incentivizes investment in U.S. semiconductor manufacturing and R&D by funding relevant entities along the manufacturing and research supply chain
Creates a National Science and Technology Council program that uses public-private partnership programs to support U.S. leadership in advanced microelectronics innovation
Creates a Defense Department program that ensures development and production capability of microelectronics critical to national security through the funding of public-private partnership and consortia of private companies
Creates a common funding mechanism at the Treasury to support the development and adoption of secure semiconductor supply chains and enhance supply chain security
*Status: Key provisions of USICA were incorporated in the CHIPS and Science Act of 2022, which was signed into law on August 9, 2022.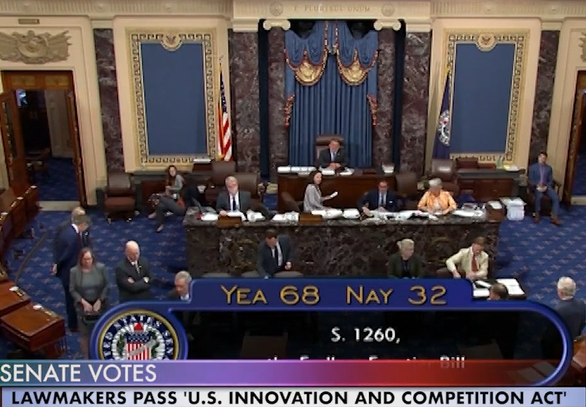 CHIPS Act and other funding

Provides $52 billion to incentive programs created by the CHIPS Act
Provides $1.5 billion for wireless supply chain innovation

Endless Frontier Act

Provides $29 billion over the next five years to enhance U.S. competitiveness in innovation and basic and applied research, especially in STEM
Establishes a new Directorate for Technology and Innovation as well as specific programs within the National Science Foundation to:

Increase capacities in an enumerated list of key technology focus areas including AI, semiconductor, quantum information, robotics, advanced manufacturing, advanced communications technology, data and cybersecurity, batteries and advanced materials science.
Reduce geographic disparity and build regional capacity
Build a STEM workforce by funding for education, research and scholarship

Provides $16.9 billion over the next five years to the Department of Energy to conduct R&D and address energy-related supply chain activities
*Status: Passed House on February 4, 2022.
CHIPS Act and other funding

Provides $52 billion to incentive programs created by the CHIPS Act
Provides $1.5 billion, every fiscal year from 2022 to 2031, for wireless supply chain innovation
*Largely similar to equivalent provisions in USICA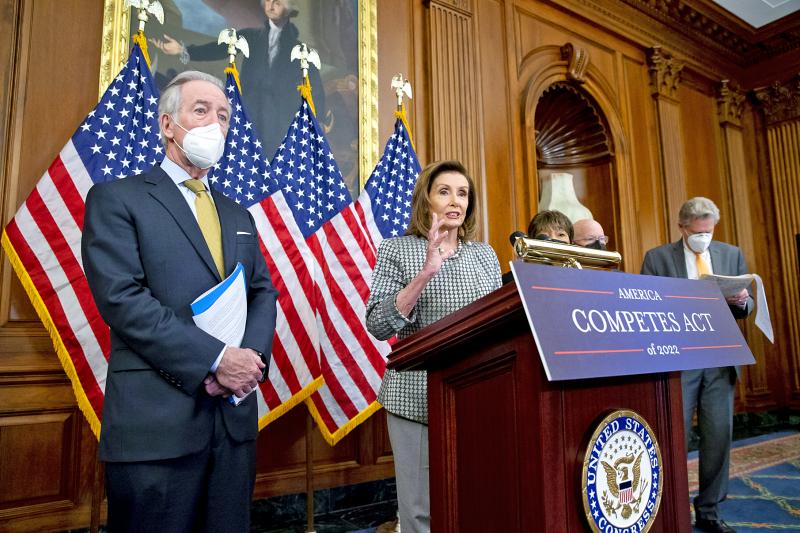 Department of Energy Science for the Future Act (timeline courtesy of GovTrack)

Increases overall Department of Energy budgets to support the construction of scientific user facilities, the fight against climate change and research in emerging technologies such as quantum information science and artificial intelligence
Increases support for research and scholarship in clean energy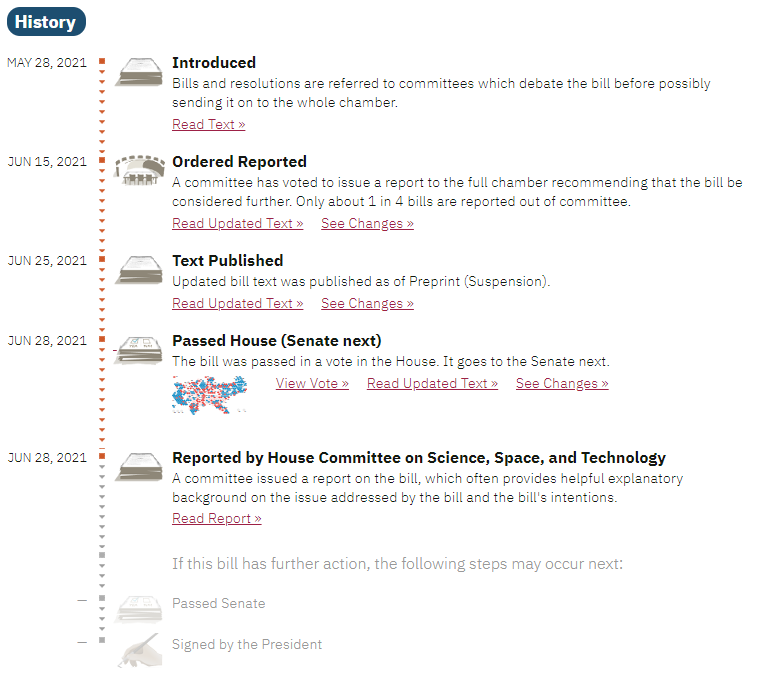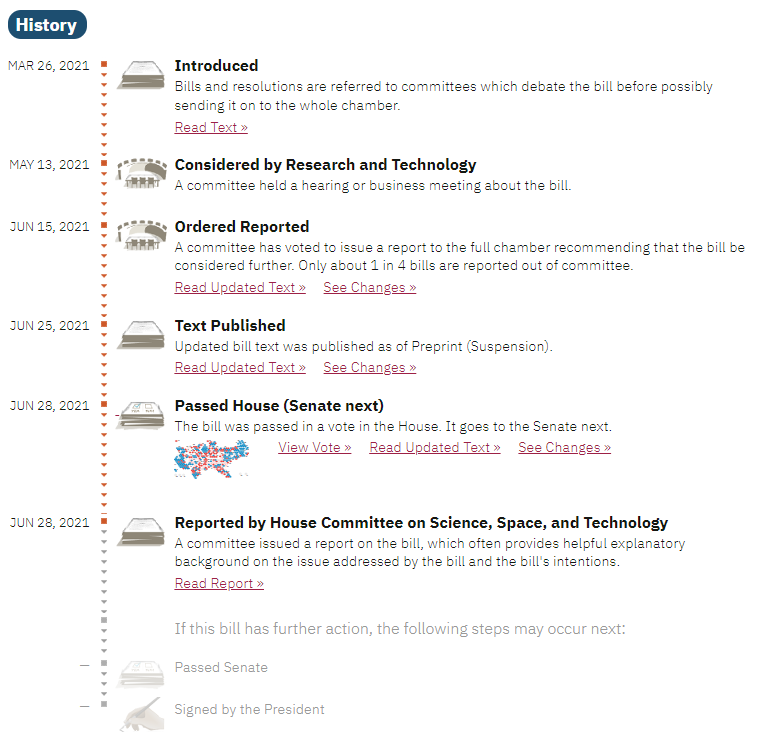 National Science Foundation for the Future Act (timeline courtesy of GovTrack)

Establishes a new Directorate for Science and Engineering Solutions in the National Science Foundation (NSF) for use-inspired research that addresses pressing societal problemsProvides $13 billion over the next five years for the new Directorate

Increases overall NSF funding to enhance existing effort to invest in critical research-enabling infrastructure
Provides additional funding to support Pre-K-12, undergraduate, and graduate-level STEM education