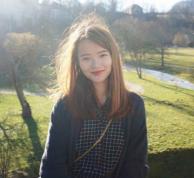 Lan Xing Yu is currently studying at Peking University's HSBC Business School, and she hopes to pursue data journalism after graduation. She is an alumna of USCET's Data Journalism Workshop.
Q: How did you become interested in data journalism?
A: I first learned about data journalism during my senior year of college. I was interested in journalism as an undergrad, and I was thinking of becoming a journalist. But I was uncertain about which kind of journalism I should pursue. There are so many subfields–you can focus on writing about people, or you can write features or research-based pieces. After I learned about data journalism, I thought it best suited my personality. I am very rational and like how quantitative it is.
Q: What was the biggest challenge you faced in becoming a data journalist? How did you overcome it?
A: There were a lot of tools I had to learn—it was hard to know where to begin. But after I grasped the basic tools, I realized that they are only a means to help me express my points. One thing that is concerning me right now is that data journalism pieces are often too impersonal. In China, data journalism relies too much on the data itself. The articles consist mainly of statistics, scales, and proportions. This style offers precision but loses the appeal of a good story. I'm still finding my balance between both faithfully presenting data and telling a story.
Q: As a student, why do you think data journalism is important?
A: I think that data journalism provides a good opportunity for journalism students, especially for humanities students, to learn technical skills. Data journalism is also developing rapidly in China. There used to be very few pieces of data journalism available. I could only find a few information graphs online during my senior year. But now, news reports include more and more professional graphs and interface content. So, the entrance bar to the industry has risen. One needs to develop skills quickly in order to stay competitive in the field.
Q: How do you personally develop your skills?
A: I follow data journalism in the media in order to learn about any changes in the industry. I also read about a range of topics to broaden my knowledge. For instance, I have been following City Data Team, which focuses on data related to the cities, including city planning and traffics. But I also read about entertainment, fashion, and VC investment, which is not necessarily data heavy.
————————————————————————————————————————————
Lan Xing Yu现在就读于北大汇丰商学院。她希望能够毕业后能从事数据新闻工作。她是USCET数据新闻工作坊的校友。
Q:你是如何对数据新闻产生兴趣的?
A:我是在大四听说数据新闻的。本科时我就对新闻挺感兴趣的,想当记者,但不清楚具体要到哪个领域比较好,因为记者也分很多领域,比如写人物、写特稿、写研究类稿子的等等。我知道数据新闻后,觉得它非常符合自己偏理性的思维方式。
Q:当数据新闻记者遇到的最大的障碍是什么?你是如何克服它的?
A:需要学的技能工具太多了,不知道该从哪儿开始。但当我掌握基本技能后发现不必要苛责于工具,工具有很多种,但重点在于如何表达。我现在比较困惑的是我感到数据新闻有时太过于理性了。国内的很多数据新闻就给你个简单的统计,多大规模,占多少比。数据本身追求的是表达精确,但过多使用数据就没有办法讲好故事,如何平衡二者是我目前面对的难关。
Q:作为学生,你怎么看数据新闻这个领域?数据新闻为什么重要?
A:数据新闻对于新闻学的同学,甚至是文科的同学来说是个好机会。数据新闻在国内发展的也挺快的,以前国内数据新闻很少很少,大四时在网上只能看到少量的信息图,但现在的报道中的专业图表、交互内容变得越来越多。所以进入这个领域的门槛就提高了。要保持自己的竞争力就要尽快提升水平,否则不进则退。
Q:你平时都看些什么来进一步学习的?
A:平时我会关注数据新闻媒体来了解行业里的机会。另外就是阅读各种文章拓展思维眼界。比方说,我关注的城市数据团,他们专门做城市挖掘相关,城市规划,城市交通。他们比较商业化做得很扎实。除了这样的,我还会关注一些娱乐时尚、创投方面的公司的公众号,相对用到数据就会少一些。