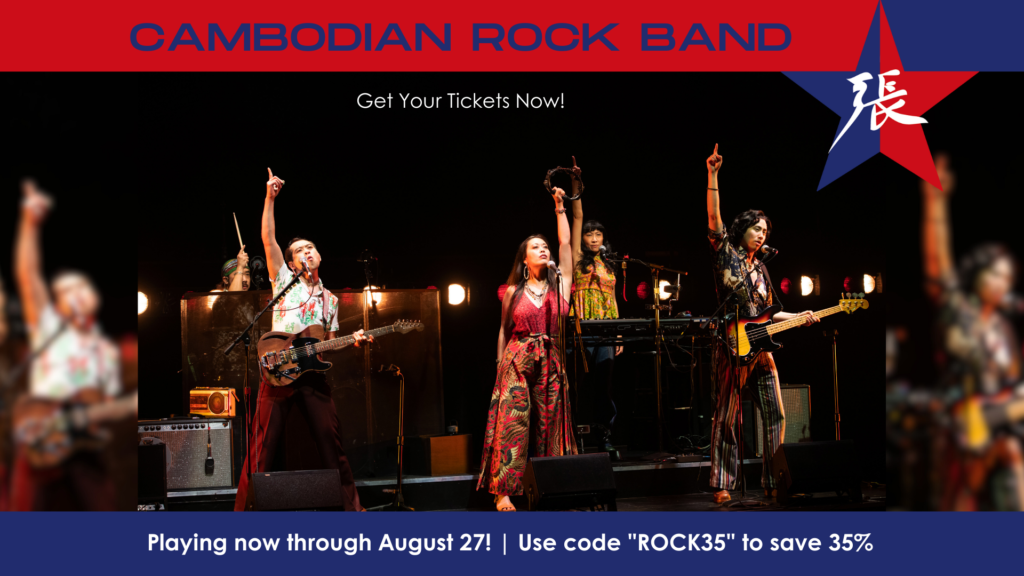 Graphic above adapted from: Abraham Kim, Joe Ngo, Brooke Ishibashi, Jane Lui, and Tim Liu in "Cambodian Rock Band." Photo by Margot Schulman.
---
For friends in the DMV area, Arena Stage has offered USCET a 35 percent discount to see the work of talented Asian American playwright Lauren Yee, at Arena Stage's Kreeger Theater. "Lauren Yee has a real winner with Cambodian Rock Band!" says USCET Executive Chair Ambassador Julia Chang Bloch, who attended a rousing performance at Arena Stage and met the dynamic all-Asian cast backstage. "It's definitely worth seeing!"
From the Arena Stage website:
It's 2008 and a father-daughter duo are heading to Phnom Penh; she to prosecute a notorious Cambodian war criminal, he 30 years after escaping then-Communist rule. In a psychedelic theatrical extravaganza set to some of the country's most popular rock music, including from Dengue Fever, Cambodian Rock Band shines a light on the country's vibrant '70s rock scene and how an entire generation of musicians was purged by the Khmer Rouge, as it brings long-buried family secrets back to life.
Support for Cambodian Rock Band is provided by Andrew R. Ammerman and Sue Henry and Carter Phillips.
Arena Stage offers this production in memory of long-time friend and proud Washingtonian Curtis T. Bell.
Credits: By Lauren Yee
Featuring Songs by Dengue Fever
Directed by Chay Yew
A Signature Theatre Production
In Association with Alley Theatre, Berkeley Repertory Theatre, and ACT Theatre/5th Avenue
Location: Kreeger Theater
Run Time: Approximately 2 hours 30 minutes including a 15-minute intermission