On the evening of September 23, 2022, USCET held its most recent meeting of the Asian American Book Club, featuring Shawn Wong and his 1995 book, American Knees. The webinar was attended by 55 students and scholars representing 40+ universities across China.
Shawn Wong, author and Professor of English at the University of Washington, is a lifelong teacher and Asian American activist. One of his earliest works, Aiiieeeee! An Anthology of Asian-American Writers (1974) helped establish the field of Asian American Literature. His other works, including American Knees, bring diversified Asian American stories into the gaps of the American literary canon.
Wong cheerfully discussed these works and his life trajectory in the webinar and answered numerous questions from the audience. He was introduced by UCLA Professor of English and Asian American Studies King-Kok Cheung. The evening was moderated by Patricia Chu, Professor of English and Director of Asian American Studies at George Washington University.
During the webinar, Wong recounted the inspiration for American Knees. On a gloomy winter day at the University of Washington, a student asked why everything discussed in their Asian American literature class was "sad and depressing—about going through hardship and grandma arriving in America." Other students added that many of the stories seemed to be set in the same Asian American communities, lacking conversations about mixed race identity, experiences of contemporary Asia America, sex, and humor.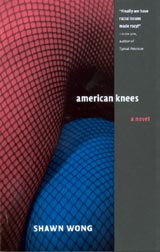 Wong set out to change this with American Knees, a novel that depicts the love life of an Asian American man with three complex women. The story explores the space between people in a relationship and tackles subtle levels of misunderstanding, ignorance, and racism. The funny, romantic, self-proclaimed "beach book" was also adapted into a movie in 2006.
Shawn Wong has built a career on the idea that Asian American literature needs to be read and rediscovered. Today, the Asian American literary community is a lot more diverse and prolific than when he started, and Asian American books are published every month.
Wong believes there are still many more Asian American stories that need to be written. He is working on a new book that follows an Asian American fashion businessman as he navigates life and identity outside the United States. It is a novel that will explore "the anonymity of being an Asian American out in the world."
Wong continues to advocate for other Asian American voices in literature. In 2019 he co-edited the third edition of Aiiieeeee! and started the Shawn Wong Book Fund in Asian American Studies to support the publication of books on Asian American history and culture. You can learn more about Shawn Wong and his work here.