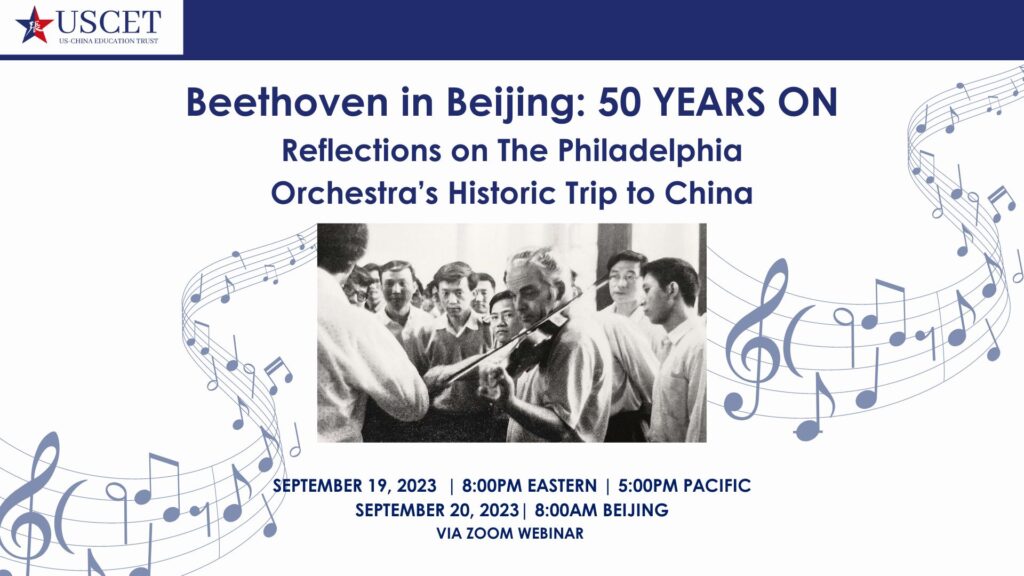 Watch the movie Beethoven in Beijing, and join our outstanding webinar panel for an insider's view of 50 years of US-China musical diplomacy!
This special evening celebrates the 50th anniversary of the Philadelphia Orchestra's groundbreaking 1973 trip, which opened doors and changed the musical landscape of both the United States and China. Learn what made this visit so special and how it triggered a wave of musical exchanges. We will also look at how tensions in US-China relations have impacted musical exchanges in recent years and the current state of classical music in China. What are the hallmarks US-China musical exchanges today and what can we expect as travel to China becomes easier again?
Ambassador Julia Chang Bloch will open with a brief salute to Ambassador Nicholas Platt, longtime chair of the USCET Advisory Council, who played a critical role in making sure that the Orchestra visit was a success in his role as a young foreign service officer in Beijing.
Click the button below to register for the September 19 webinar, hosted on Zoom. We also encourage registrants to watch the film "Beethoven in Beijing" (see below) to bring this historic musical event to life.
The film Beethoven in Beijing will be available for viewing September 15 to September 22. Click the button below to view the film during this time.
Panelist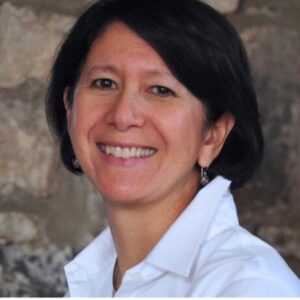 Jennifer Lin is an award-winning journalist, author, and documentary filmmaker. She co-directed and produced the feature length documentary Beethoven in Beijing, which premiered in 2021. For 31 years, she was a reporter with the Philadelphia Inquirer, posted to China, Wall Street, and Washington, D.C. Ms. Lin has also written a history of the Philadelphia Orchestra's 1973 tour called Beethoven in Beijing: Stories from the Philadelphia Orchestra's Historic Journey to China, published by Temple University Press in 2022. She is the author of Shanghai Faithful: Betrayal and Forgiveness in a Chinese Christian Family and co-author of Sole Sisters: Stories of Women and Running. Ms. Lin is a graduate of Duquesne University.
Panelist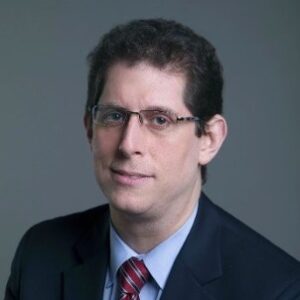 Ryan Fleur is executive director of The Philadelphia Orchestra and Kimmel Center, Inc., the largest performing arts organization in Pennsylvania.  In addition to operating the world-renowned Philadelphia Orchestra, the organization reaches tens of thousands of schoolchildren each year and is the largest presenter of Broadway in the U.S. outside of New York City. Mr. Fleur has built the Philadelphia Orchestra's robust program of international residencies, including numerous partnerships with the people of China.  Previously, Mr. Fleur was president and CEO of the Memphis Symphony, and worked with such organizations as Boston Ballet and the New York Philharmonic.  He received his B.A. from Boston University in economics and business.
Panelist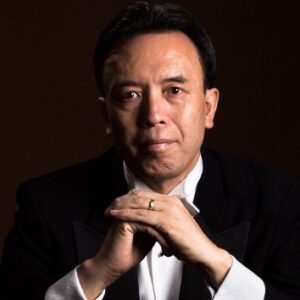 Jindong Cai is professor of music and arts at the Bard College Conservatory of Music. He is also director and cofounder of the US-China Music Institute at the Bard Conservatory and associate conductor of The Orchestra Now. Over a 30-year career in the United States, Cai has been an active conductor, scholar of Western classical music in China, and leading advocate of music from across Asia. He began his conducting career at the Cincinnati Symphony Orchestra, and has also maintained strong ties to his homeland, conducting top orchestras across China. He was previously a faculty member at Stanford University, serving as director of orchestral studies and conducting the Stanford Symphony Orchestra for 11 years. Cai came to the United States for graduate studies at the New England Conservatory and the College-Conservatory of Music in Cincinnati. He has coauthored several books and articles on classical music in China with his wife, Sheila Melvin (see below).
Panelist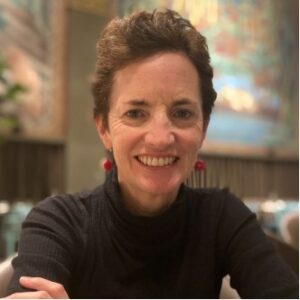 Sheila Melvin is a China analyst, consultant, and author focusing on both culture and business. She and her husband, the conductor Jindong Cai, co-wrote Rhapsody in Red: How Western Classical Music Became Chinese; Beethoven in China: How the Great Composer Became an Icon in the People's Republic; and The Shanghai Symphony Orchestra: Music Connecting Worlds. She is also the author of The Little Red Book of China Business. Melvin's writing on the arts across Asia has been published widely, including in The International Herald Tribune, The Wall Street Journal, The Asian Wall Street Journal, The New York Times, The Washington Post, The Los Angeles Times, The Wilson Quarterly, and other publications. Melvin sits on the board of the Asia Society, Northern California. She received a B.A. from from the University of Pennsylvania, an M.A from the Johns Hopkins University School of Advanced International Studies (M.A.) and studied at Fudan University in Shanghai.
Panelist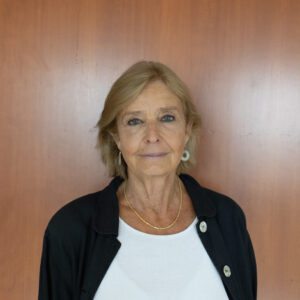 Madelyn Ross became president of USCET in 2022. Before joining USCET she was associate director of China Studies and executive director of SAIS China at Johns Hopkins University School of Advanced International Studies, which included the Hopkins Nanjing Center partnership. She also served as director of China Initiatives at George Mason University and began her career at the US-China Business Council, where she was editor of The China Business Review and executive director of The China Business Forum. She has a B.A. from Princeton University and an M.A. from Columbia University and did graduate work at Fudan University in Shanghai in 1979-1980, where she was one of the first American students to study in China following normalization of relations.