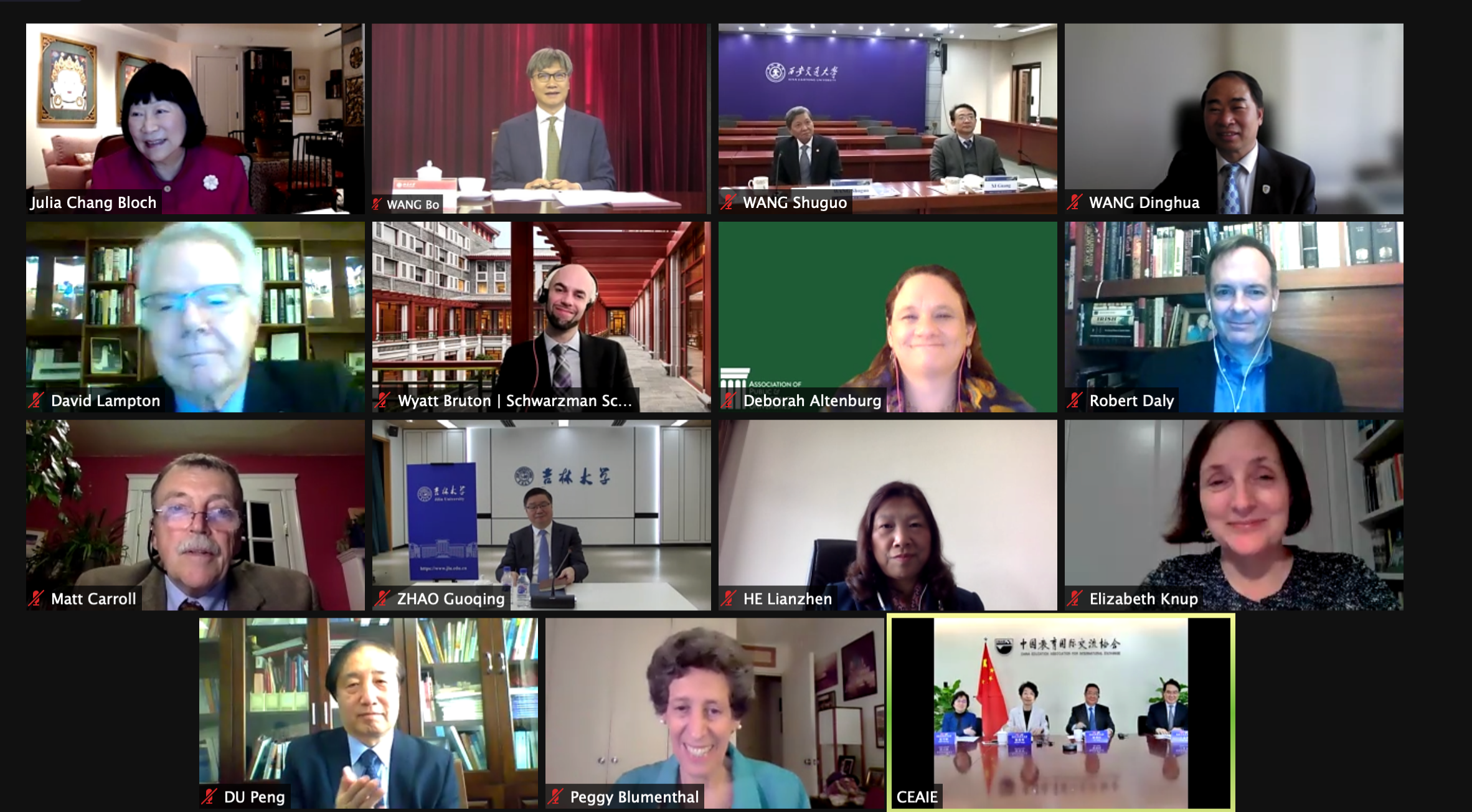 On March 24th, the US-China Education Trust in partnership with the China Education Association for International Exchange (CEAIE) co-hosted a webinar on Rebuilding US-China Education & Exchange. Over 250 attendees tuned in for this lively dialogue from universities across China and the US, along with officials from the US Department of State, our embassies in Washington and Beijing, the Chinese Ministry of Education, and more. Amidst the challenges to education exchange posed by the COVID-19 pandemic and heightened tensions in the US-China bilateral relationship, this timely discussion lent insight into existing areas of mistrust and also examined many potential ways to facilitate the resumption of regular exchanges. One key takeaway from the discussion was a disconnect between the expressed views of the two nations' participants. The Americans were generally more guarded and pessimistic in their assessments than their Chinese counterparts in describing the obstacles impeding a quick and comprehensive re-normalization of bilateral education exchange, suggesting the need for further dialogues on the subject. Nonetheless, participants from both nations hoped for an early and thorough move forward.
The webinar focused on four key themes: Current State of US-China Education Exchange; Issues Driving Restrictions on Inflow of Chinese students to the US and American students to China; Impact of Deteriorating Bilateral Relations on Education Exchange: Perspectives from US and Chinese universities; and Post-Pandemic US-China Education Exchange: The Future. A common sentiment throughout the discussion, shared by speakers from both China and the United States, was that security concerns emanating from both Beijing and Washington were having a very large and negative impact on the exchange of students and scholars between both countries. The "securitization" of education exchange has led to increased visa restrictions, cessation of exchange programs, the interruption of free and open academic discourse, acting as a deterrent to students seeking to study abroad in China and the US. The simple logic of securitization for some in both nations seems to be that if the two nations are competing on innovation and next-generation technologies, the exchange of knowledge must be viewed against such a backdrop.
Some speakers proposed the possibility of meeting in a third country or increasing exchanges online to circumvent these challenges, while others suggested that there are more fundamental issues which need to be addressed at a higher level between both countries. Looking at data surrounding bilateral exchanges, it also became clear that there has been a decrease in Americans studying in China and Chinese students studying in the United States, made even worse as a result of the pandemic. Throughout the discussion, there was a mix of both pessimism and optimism with no clear consensus about the current state and future of educational exchanges. Despite this, there was affirmation of the enduring value of education exchange and agreement in the significance of maintaining regular educational exchanges between the US and China. Speakers from both countries shared heartfelt anecdotes and experiences about how exchanges have impacted them personally and their institutions. In her concluding remarks, Ambassador Julia Chang Bloch emphasized that she believes this dialogue made a case for education exchange to emerge as a priority avenue for bilateral cooperation and that she hopes that this discussion will serve as the beginning to future discussions about rebuilding US-China educational exchange.
The American delegation included Deborah Altenburg, Associate VP for Research Policy and Government Affairs at the Association of Public and Land-Grant Universities (APLU), Ambassador Julia Chang Bloch, President of the US-China Education Trust (USCET), Peggy Blumenthal, Senior Counselor to the President at the Institute for International Education (IIE), Wyatt Bruton, Associate Director of Admissions at Schwarzman Scholars, Matt Carol, Journalism Professor of Practice at Northeastern University, Robert Daly, Director of the Kissinger Institute at the Wilson Center, and Elizabeth Knup, Regional Director for China at the Ford Foundation. David M. Lampton, Professor Emeritus at Johns Hopkins-SAIS and current Senior Research Fellow at its Foreign Policy Institute, is a Member of the Advisory Council at US-China Education Trust. He served as the moderator from the US side.
The Chinese delegation included DU Peng, Vice President of Renmin University, HE Lianzhen, Vice President of Zhejiang University, LIU Limin, President of the China Education Association for International Exchange (CEAIE), WANG Bo, Vice President of Peking University, WANG Dinghua, Chair of the University Council at Beijing Foreign Studies University, WANG Shuguo, President of Xi'an Jiaotong University, and ZHAO Guoqing, Vice President of Jilin University. ZHANG Xiuqing, Vice President of China Education Association for International Exchange (CEAIE), served as the moderator from the Chinese side.