Thomas Pickering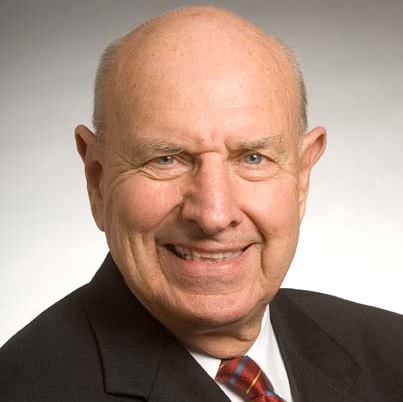 Since December 2006, Ambassador Tom Pickering has been vice chairman of Hills & Company.
Hills & Company is an international consulting firm that provides advice to U.S. businesses on investment, trade, investment, diplomacy, and politics. He retired as senior vice president for international relations and a member of the executive council of The Boeing Company on July 1, 2006, having served in the position for five and half years. He was responsible for The Boeing Company's relations with foreign governments and the company's globalization. He joined Boeing in January 2001 following his retirement as under secretary of state for political affairs.
He held the personal rank of career ambassador, the highest in the U.S. Foreign Service. In a diplomatic career spanning five decades, he has served as U.S. ambassador to the Russian Federation, India, Israel, El Salvador, Nigeria, and the Hashemite Kingdom of Jordan. Pickering also served on assignments in Zanzibar and Dar es Salaam, Tanzania. From 1989 to 1992, he served as ambassador and representative to the United Nations in New York. He also served as executive secretary of the Department of State and special assistant to Secretaries William P. Rogers and Henry A. Kissinger from 1973 to 1974.
He received a bachelor's degree, cum laude, with high honors in history, from Bowdoin College in Brunswick, Maine in 1953. In 1954, he received a master's degree from the Fletcher School of Law and Diplomacy at Tufts University. He was awarded a Fulbright Scholarship to the University of Melbourne in Australia, and received a second master's degree in 1956. In 1984, he was awarded an honorary doctor-in-laws degree from Bowdoin College, and has received similar honors from 12 other universities.
In 1983 and in 1986, Ambassador Pickering won the Distinguished Presidential Award and, in 1996, the Department of State's highest award—the Distinguished Service Award. He is a member of the International Institute of Strategic Studies and the Council on Foreign Relations. He speaks French, Spanish, Swahili, Arabic and Hebrew.
---
Tome Pickering大使自2006年12月起担任Hills & Company International Consultant公司副主席一职。2006年7月1日,他以国际关系高级副总裁和波音公司执行委员会成员的身份退休。他负责波音公司与外国政府的关系以及公司的全球化发展。他于2001年1月加入公司,退休后担任国家政治事务副部长。
他曾经的大使个人等级,在美国外交服务中是最高等级。在长达50年的外交生涯中,他曾担任美国驻俄罗斯、印度、以色列、萨尔瓦多、尼日利亚和约旦哈希姆王国的大使。Pickering还在坦桑尼亚和桑给巴尔执行任务。从1989年到1992年,他担任美国驻纽约联合国大使和代表。1973年至1974年,他还担任美国国务院的执行秘书和国务卿威廉·罗杰斯和亨利·基辛格特别助理。
1953年,他在缅因州布伦瑞克的鲍登学院(Bowdoin College)获得了历史上最高荣誉的学士学位。1954年,他获得了塔夫斯大学弗莱彻法律与外交学院(Fletcher School of Law and Diplomacy at Tufts University)的硕士学位。他获得了澳大利亚墨尔本大学(University of Melbourne)福布莱特计划奖学金(Fulbright Scholarship),并于1956年获得第二硕士学位。1984年,他获得了鲍登学院(Bowdoin College)的名誉博士学位,并获得了其他12所大学的类似荣誉。
1983年和1986年,Pickering大使赢得了杰出总统奖(Distinguished Presidential Award)。在1996年,又获得了美国国务院的最高奖项杰出服务奖(Distinguished Service Award)。他是国际战略研究所和外交关系委员会的成员。他会说法语、西班牙语、斯瓦希里语、阿拉伯语和希伯来语。