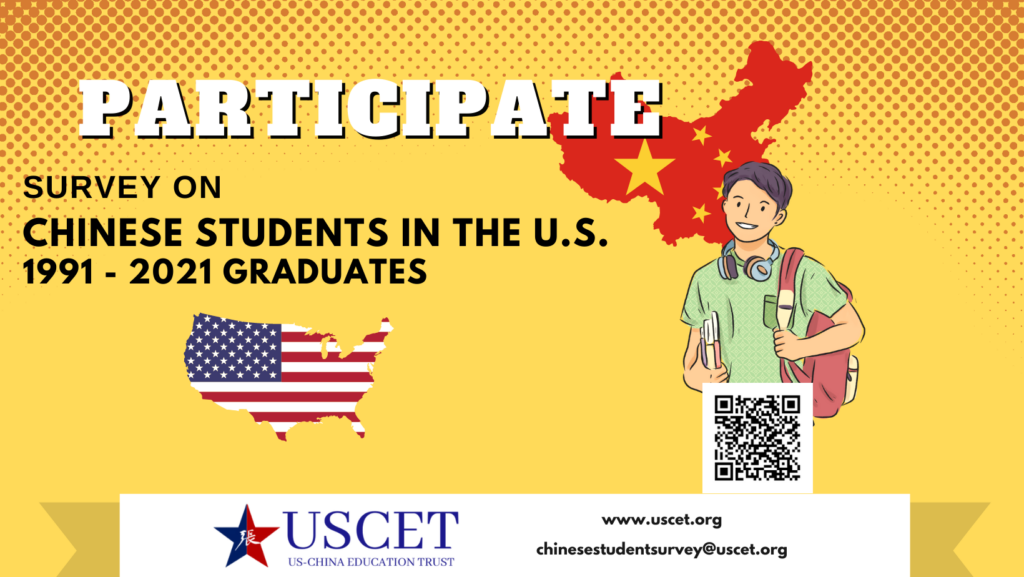 Overview
The US-China Education Trust (USCET) seeks to better understand the experiences of Chinese students in the United States over the past three decades. This survey will provide a qualitative overview to lend insight into their reasons for coming, social experiences, positive or negative evaluation of the academic experience, and the long-term impact on their lives. The survey results will also inform a series of dialogues between current and former students and a report on the Chinese student experience over the years.
Requirements to Complete the Survey
You are eligible to participate in this research study if you…
Completed your undergraduate and/or graduate studies at a college or university in the United States;
Were a citizen of the People's Republic of China during your initial enrollment at a US institution;
Graduated between 1991 and 2021;
Possess the ability to complete this survey in English.
Benefits from Your Participation
The results of this survey will improve understanding of the experiences of Chinese students in the United States across the decades. The findings will be aggregated and published in a report on USCET's website and widely distributed to our network of college and universities, think tanks, NGOs, and government officials. Additionally, the report will provide ideas for follow-up events on student experiences across the decades that will be held to increase the report's impact.
Sensitive Questions
Some questions on this survey deal with student experiences of racism, discrimination, and political views, and may be sensitive for some survey-takers. These questions, however, are optional and may be skipped. All responses are anonymous and will be aggregated for presentation in the final report. You are free to discontinue your participation in this survey at any time, and if you choose not to submit the survey, your responses will be discarded.
Contact Information
If you have any questions regarding this survey, please contact us by email at chinesestudentsurvey@uscet.org or phone +1 (202) 994-2851.