Edition #4 | COVID-19 Response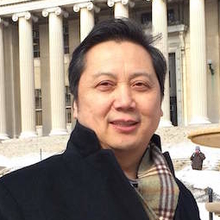 Sun Zhe, visiting senior research scholar and co-director of the China Initiative at Columbia University's School of International and Public Affairs (SIPA), personifies the importance of international education in times of crisis.  During this global COVID-19 crisis, together with his wife Nina, who is a trustee of Barnard College and Global Adviser for several schools at Columbia University, he is at the heart of a bold donation drive organized by Columbia alumni from across Greater China to help New York City weather the pandemic.
Columbia's alumni from across Mainland China, Hong Kong and Taiwan have raised more than $2.1 million to send PPE to New York healthcare workers and First Responders. Working together with Chinese and American volunteers, they have delivered more than 3 million surgical masks, almost 22,000 N-95s, 61,000 face shields, 345,000 medical gloves, 12,500 protection coveralls, isolation gowns, and 1,100 goggles. In addition, they dispatched 100,000 surgical masks to the NYPD and NYFD, and 55,000 masks to the Columbia University administration, staff, and students. Sun emphasized the personal contributions of Chinese students in New York City, many of whom used their small dormitory rooms to store boxes of supplies and risked their own health to make deliveries.
It's difficult to imagine a better example of USCET's mission and the good that comes from international education. Sun Zhe and Nina are both part of the USCET family. Sun Zhe's roots facilitating US-China education alongside USCET run particularly deep, but Nina helped USCET start its media programs, one of our core activities today. Sun Zhe and Ambassador Julia Chang Bloch launched the first Congressional Studies program in China, at Fudan University in the late 1990s. In 2004, Sun Zhe went on to host the first American Studies Network (ASN) conference also at Fudan University. Today, the ASN has expanded from 21 university member institutions to 54, and is now in its 17th year.
Sun has participated in many USCET programs, most notably joining the first cohort of Chinese scholars to attend a Presidential Debate – George W. Bush versus John Kerry in 2004, at the University of Miami, where Sun came to know Frank Fahrenkopf, co-chair of the Commission on Presidential Debates. Years later at Tsinghua University, he would invite Fahrenkopf to speak at a major conference. By connecting Americans and Chinese through international education and exchange, USCET has created ripple effects of US-China cooperation and dialogue that continue to resonate today.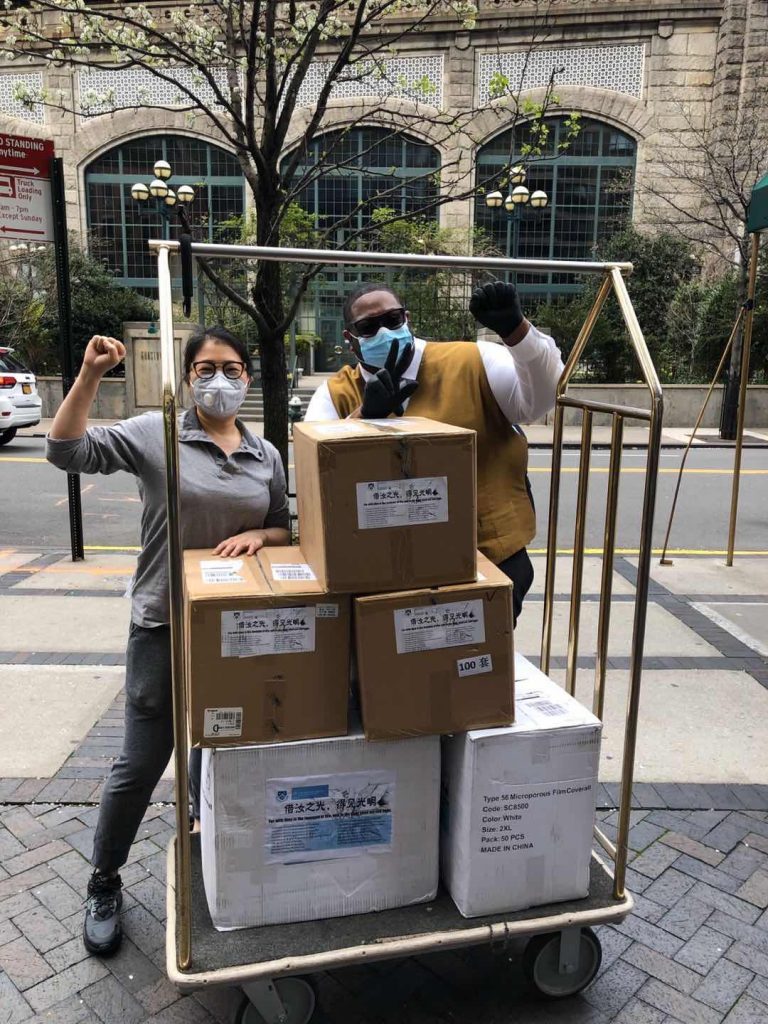 What has brought Sun Zhe and Nina to the frontline of the COVID-19 relief efforts for New York City is their belief in giving back. Sun remembers the hepatitis outbreak in Shanghai in the late 1980's when many people died. Dr. Roy Vagelos, for whom Columbia's Medical School is named and then-chairman and CEO of Merck & Co, sold the hepatitis vaccine to China for $7 million to help China fight its biggest threat to public health at that time. Merck received no profits or royalties from the sale. Today, Sun said, it is America's turn to call on friends across the Pacific for aid, as "A friend in need is a friend indeed."
Despite the fact that the US-China relationship is in free fall and that COVID-19 has pushed it to the worst point since the era of Mao, Sun is convinced that in the people-to-people sphere, especially with the thousands of Chinese educated in the US, there remains "a natural affinity and special affection between the two peoples." No matter the state of government-to-government relations, he argues, this affection creates not only pathways for dialogue, but opportunities for mutual aid in times of dire need.
For Sun, this pandemic relief effort is not separate from his work with USCET; rather, it is a heartfelt expression of his lifelong aspiration to work for mutual understanding between the Chinese and American peoples. As an US-China relations expert, he knows that the relationship will define geopolitics in the 21st century, and he remains convinced that international education and exchange can serve as bridges to weather even the most bitter of crises. "I believe in the spirit of human cooperation," Sun said, and "we are the same humanity."
We applaud Sun Zhe and Nina for living up to the best that international education and USCET strive for. "People to people exchanges are flowers in the sea of darkness," Sun said. Even facing a pandemic and its accompanying wave of mistrust and opportunistic nationalism, those flowers continue to bloom. International education and exchange give us hope.
---