Edition #3 | International Women's Day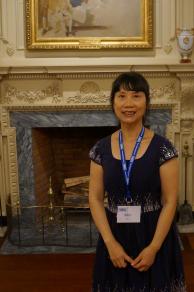 In celebration of International Women's Day, USCET is highlighting Ji Min for the third part of our USCET Alumni Series. Ji Min is professor at Sichuan Normal University in Chengdu, Director of the Center of Women's Studies at SNU, and coordinated USCET's Advisory Council Scholarship. Professor Ji has a distinguished track record having taught at Sichuan Normal University for 38 years, recognized as a Fulbright Scholar, and being actively involved with USCET since our inception.
Gender Equality in China has become a more important issue thanks to higher education, cross-cultural exchanges, and social media. "When I was younger, the discourse around gender equality was minimal and mostly centered around the need for women to have masculine power, such as 'women hold up half the sky.'" Professor Ji Min credits higher education in China with helping to advance women's causes in the country. As director of the Center of Women's Studies at Sichuan Normal University, she has had the opportunity to witness the empowerment of female students first-hand.
In 2014, USCET launched the Advisory Council Scholarship Fund at Sichuan Normal University by providing a four-year scholarship to five outstanding female students. These students were selected based on their outstanding academic merit and economic background with demonstrated financial need taken into account. Professor Ji Min coordinated the partnership between USCET and Sichuan Normal University and advised the scholarship recipients. "USCET's Advisory Council Scholarship was unique as it was the first SNU scholarship to be funded from an American source and the first scholarship specifically for female students at our university." Female students from rural areas and economically disadvantaged backgrounds face many hurdles in higher education. However, Ji Min notes that she saw the Advisory Council fellows overcome these obstacles. "The female fellows used to lack self-confidence and found it difficult to compete for recognition in an academic setting. They made big progress in their development – academically and otherwise."
Professor Ji Min has kept in touch with the fellows, who graduated in 2018, and reports that they are all making progress towards their personal and career goals. She mentions that one fellow is expecting to complete her master's degree in a few months and progress onwards to a PhD program and that another found a job in a bank and is expecting a promotion soon. Through the Center of Women's Studies, Ji Min aspires to continue the advancement of women's issues in China by supporting more female students at Sichuan Normal University.
The center has formed international partnerships with San Diego State University and the University of Athens (Greece), which has drawn the support of Sichuan provincial and university officials. International educational exchanges, such as those offered by USCET, help to increase understanding and promote gender equality. In addition to its international partnerships, the Center of Women's Studies has assisted in disaster relief efforts to support ethnic minority women in China following the 2008 Sichuan Earthquake and 2012 mud slides near Gansu and Qinghai provinces. Currently, Ji Min is excited about a new course offering at Sichuan Normal University titled "Gender, Culture, and Human Development" which will be open for enrollment to all students. This course will offer new perspectives about gender and society, and lend insight into the advancement of gender equality.
Professor Ji notes that although gender equality has improved in China and globally, there remains room for improvement, especially in rural or less-developed areas. "Young women should focus on maintaining excellence in their field, having good problem-solving abilities, a capacity for leadership, and not be afraid of failure." Global issues such as climate change also demand women leadership in social responsibility. "Small actions can have a big impact. Many young women at our university are now switching off lights in unused classrooms and reducing their food waste in order to be more socially responsible." Ji Min also discussed the need for proper role models for the promotion of gender equality. Ji Min says, "A role model should be optimistic, smiling in the face of difficulty, persistent, and patient."