Marlene Johnson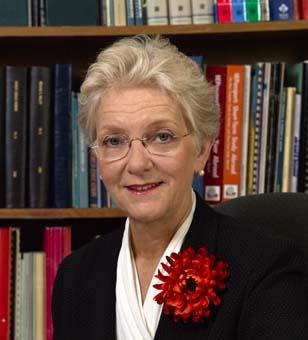 Marlene Johnson served as the executive director and chief executive officer of NAFSA.
NAFSA: Association of International Educators is the world's largest nonprofit association dedicated to international education. The organization's nearly 10,000 members worldwide are the professionals that make international education opportunities possible for thousands of students each year. The association seeks to increase awareness of and support for international education and exchange in higher education, government, and the community, believing that citizens with international experience and global awareness are crucial to U.S. leadership, competitiveness, and security. Under Johnson's leadership, NAFSA has become the leading advocate on behalf of international education, actively participating in the public and policy debates that impact the field and emerging as a respected voice in support of educational exchanges as a key tool of U.S. foreign policy and public diplomacy.
Johnson's leadership in government, business, and the nonprofit sector spans more than three decades. From 1983 to 1991, she served as lieutenant governor of Minnesota. Strengthening and expanding the state's connections with the rest of the world in trade, tourism, education, and the arts was a hallmark of her time in office, and she was a particularly outspoken advocate of international educational exchange at the secondary and postsecondary level. Johnson also served as associate administrator for management services and human resources in the U.S. General Services Administration during the Clinton Administration.
Johnson currently serves on the board of the Kakenya Center for Excellence, the board of the Communications Consortium Media Center, and the advisory board of the Center for Women's Intercultural Leadership at St Mary's College (Notre Dame, Indiana). She is also an honorary fellow with the Foreign Policy Association. Johnson is a former board member of the Alliance for International Educational and Cultural Exchange, AFS-USA, AFS Intercultural Programs, the World Press Institute, and the National Association of Women Business Owners. In 1988, she was awarded the Royal Order of the Polar Star by the Kingdom of Sweden.
---
Marlene Johnson是NAFSA国际教育协会的执行董事和首席执行官,这是世界上最大的国际教育协会。
NAFSA在全球拥有近1万名会员,这些专业人士每年为数千名学生提供国际教育机会。该协会寻求提高对国际教育的认识和支持,并在高等教育、政府和社会中进行交流。该组织相信具有国际经验和全球意识的公民对美国的领导能力、竞争力和安全至关重要。在Johnson的领导下,NAFSA已成为代表国际教育的主要倡导者,积极参与影响该领域的公共和政策辩论,并成为支持教育交流的受人尊重的声音,成为美国外交政策和公共外交的关键工具。
Johnson在政府、企业和非盈利组织领域的领导地位已经超过30年。从1983年到1991年,她担任明尼苏达州副州长。在她任职期间,她致力于加强和扩大国家在贸易、旅游、教育和艺术方面与世界其他国家的联系,同时她也提倡中学和高等教育的国际教育交流。Johnson在克林顿执政期间,还担任美国总务管理局管理服务和人力资源的副局长。
Johnson目前在位于华盛顿特区的Kakenya Center for Excellence董事会、the Board of the Communications Consortium董事会以及St Mary's College (Notre Dame, Indiana) 的妇女跨文化领导中心咨询委员会任职。她也是外交政策协会的荣誉会员。Johnson曾是国际教育和文化交流联盟、美国AFS-USA、AFS跨文化项目、世界新闻学院和全国女性企业主协会的董事会成员。1988年,她被瑞典王国授予极地之星的皇家勋章。