From July 13-30, 2015, USCET hosted its ten Chinese Leaders in American Studies (CLAS) Fellows for an intensive three-week Summer Institute on American Social History & Social Policy in the United States. These young Chinese scholars, eight women and two men, all under the age of 35, engaged in a comprehensive program integrating professional meetings, academic study, and historical site visits, strengthening their American Studies research with inside experience of American society, culture and history. Fellows traveled to Washington, DC, Philadelphia, and Gettysburg while exploring the four major themes below. The specially-designed curriculum allowed for in-depth discussion on daily topics in morning academic sessions, complemented by rich site visits to government institutions, think tanks, and grassroots organizations.
"CLAS provides a very good chance for young scholars who are interested in studying abroad in the US. Previously I had been studying American history academically, and not really knowing what the American society is like, but being in United States and meeting people…has been great for my personal and professional development." – Lv Hongyan
The Program
I. Major Social Movements and Events that Have Defined Modern US History
The first week set the stage for the Summer Institute with an introduction on the significance of major social events of the past, and how they have defined modern US history. Fellows discussed the founding of the Constitution, the Civil Rights Movement, and Women's Movement in the US, and the significance of these events for contemporary American society. They enjoyed guest lectures from leading academics and experts, engaged in dialogue with influential members of national and local organizations, and visited relevant sites and institutions, including the following:
Susan Eisenhower, Founding Director of the Eisenhower Institute, – "Strategy and Leadership in Transformational Times" including the theme of women in leadership
Dr. Eric Arnesen, Professor of Modern American Labor at George Washington University – explored the origins and legacies of the Civil Rights Movement
Dr. William Alford, Vice Dean, Professor, and Director of East Asian Legal Studies at Harvard Law School – presentation on "How Law Helps Explain American Society"
Meeting with Dr. Edna Greene Medford, Chair of the Dept. of History at Howard University, the historically black college in the heart of Washington, DC with a strong legacy as a center of cultural and civil rights developments
Senior Curator-led tour and meeting with the Archivist of the United States at the National Archives and Records Administration
Notable appearance and greeting at a Welcome BBQ by Congressman Rick Larsen, founder of the U.S.-China Working Group in Congress
Of course, an introduction to Washington, D.C. would be incomplete without a tour of the renowned historical monuments and sites of interest. The fellows embarked on an extensive personalized city tour, viewing the White House, Lincoln Memorial, and other D.C. iconic spots. They were given an exclusive tour of the Capitol Building, including the House Chamber and the offices of the Speaker of the House of Representatives John Boehner.
II. Understanding the American Social and Policy Landscape
The CLAS Fellows experienced American cultural, social and government institutions through the diversity of national organizations located in Washington, DC, gaining deeper insight into the U.S. social and policy landscape. They met with national policymakers while exploring the social movements and institutions that drive policy developments:
State Department meeting with Assistant Secretary for Public Diplomacy and Public Affairs Kristie Kenney of the Bureau of East Asia and Pacific Affairs – on the role of people-to-people exchanges in US diplomacy
Welcome by Congressman Matt Salmon while attending a hearing of the U.S. House of Representatives Committee on Foreign Affairs' Subcommittee on Asia and the Pacific – seeing how U.S. policy is discussed and developed
Dr. Elaine Weiss, National Coordinator at the Economic Policy Institute – discussion on Social Mobility in the US, including education and income inequality
Discussion on America's religious landscape in an interfaith roundtable discussion held at the Washington National Cathedral
III. Historical Background and Developments in American Society
Fellows also traveled to Philadelphia and Gettysburg, Pennsylvania, to witness the sites of major events in U.S. history and better understand their modern legacies and cultural symbolism:
Visit to Independence Hall and the Liberty Bell – taking a guided historical tour while having the opportunity to see firsthand where the U.S. Declaration of Independence and the U.S. Constitution were first drafted
Seminar with Jacques deLisle, Professor of Law and Director of the Center for East Asian Studies University the University of Pennsylvania Law School – presentation on the development of U.S. legal rights and consumer protection
Guided tour of the National Constitution Center, which was established by Congress "to increase awareness and understanding of the Constitution and its continuing importance to the American people"
Programs with the Eisenhower Institute at Gettysburg College including alumni panel discussion on public service
Gettysburg Battlefield tour and informative session with Dr. Ian Isherwood, Assistant Director of the Gettysburg College Civil War Institute
Visit to Gettysburg's Eisenhower National Historic Site, the former home and working farm of President Dwight Eisenhower, which served as a weekend retreat and a meeting place for world leaders in the Cold War era
IV. Public Service and Community Leadership
The final component of the CLAS Summer Institute took place in Washington, DC, focusing on the importance of public service and community driven initiatives in shaping American society an d social policy:
Meeting with the Honorable Elaine L. Chao, former U.S. Secretary of Labor, who shared her personal story as an Asian American woman in leadership and provided the fellows with her insights on the cultural differences between the U.S. and China.
Presentation by Thomas Lovejoy, Senior Fellow at the United Nations Foundation and Professor of Environmental Science and Policy at George Mason University – on "Environmental Policy and Grassroots Leadership"
Panel discussion with local community activists on "Volunteerism and the Rise of American Civil Society."
Experienced volunteerism in action through participation in a service project at Martha's Table, a local charity providing healthy food, affordable clothing and quality education to the DC community.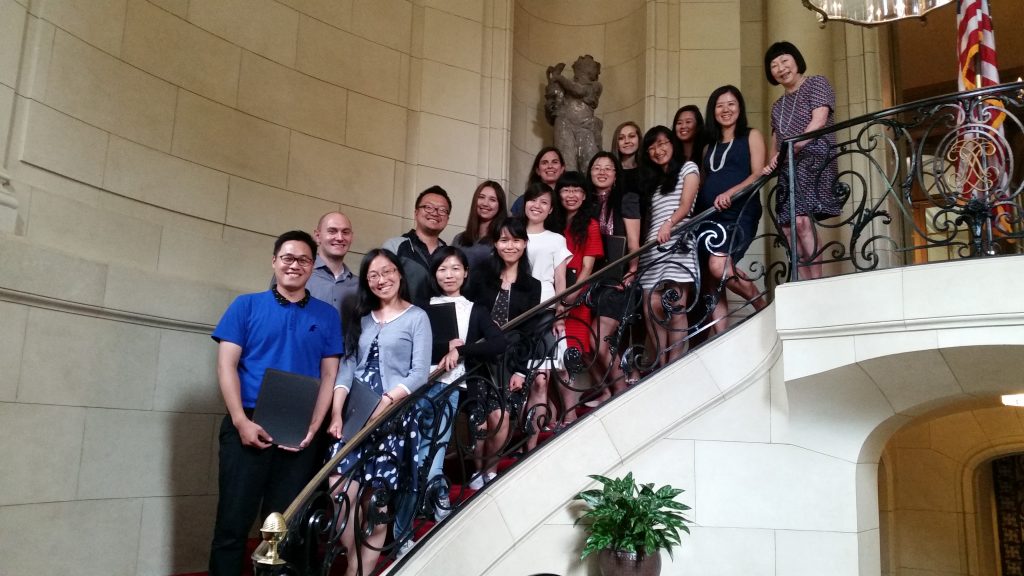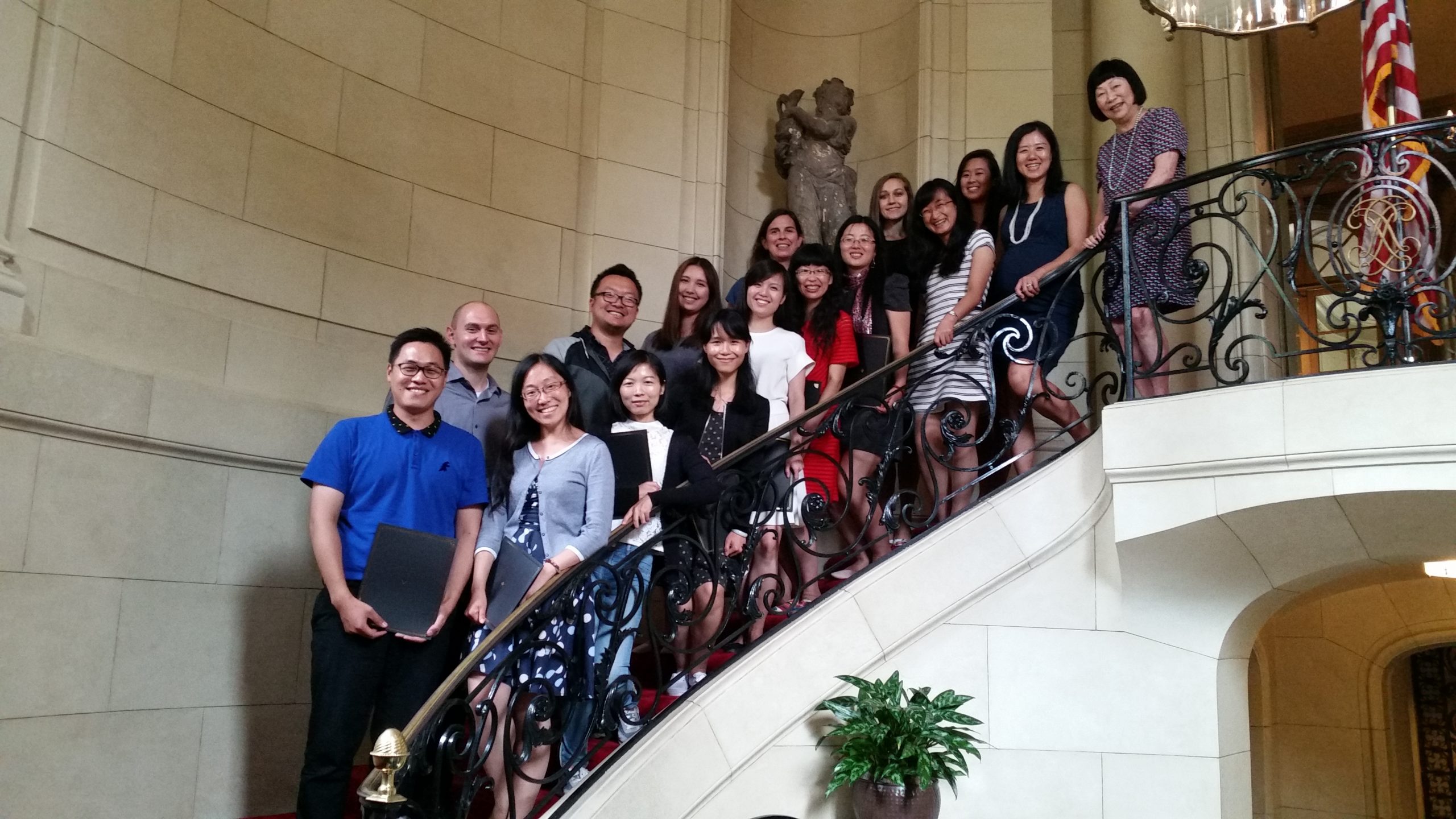 Program Impact and Future CLAS Activities
At the close of the Summer Institute, each of the CLAS Fellows gave a presentation on what they had gained from the program, and how it would inspire their future academic research. One fellow noted how the Summer Institute was "a chance to relate my readings to reality and give faces to names of people and places" through the combination of historical tours and academic sessions
Others highlighted how the program offered "extraordinarily important cultural connections outside of academia" expanding CLAS Fellows' professional networks while introducing them to new perspectives. One example of such connections was the Summer Institute welcome barbeque, at the home of USCET's President, Ambassador Julia Chang Bloch, where more than 50 distinguished members of the DC community, ranging from folks in policy, business, government, and education gathered. In addition, fellows enjoyed host family dinners with ordinary American families in suburban Maryland and Virginia, giving them a further glimpse into everyday American life.