The current climate in US-China relations calls for innovative and atypical approaches to fostering stronger relations. Far from the offices and boardrooms of the political and commercial worlds, some of the world's most meaningful transnational exchanges are taking place in the kitchen. This "culinary diplomacy" builds bridges by tapping into the simple truth that sharing a meal builds trust, creating a powerful current for cooperation. From June 8 to June 14, USCET applied this idea to a new set of programs, hosting three major events across China, each of which dove deeply into distinct facets of what culinary diplomacy means for the US-China relationship.
Chengdu
On June 8, at Ying Garden restaurant in Chengdu, USCET invited Malaysian-born and New York-based chef Simpson Wong, award-winning author and film producer Jennifer 8. Lee, and two acclaimed food writers, Tzu-I Mullinax and Fuchsia Dunlop, for a dialogue on Asian American identity and how shared cuisine continues to foster deep links between Chinese and American communities.
The day began with fusion food. There were General Tso Chicken Balls, tiny fried minced chicken balls mixed with pickles and micro greens. Zucchini Blossom Dumplings, in the shape of fried wontons, were next, followed by Crab Rolls, a variation of Crab Rangoon, with morsels of crab meat, celery, chives, mayonnaise, and a splash of lemon juice.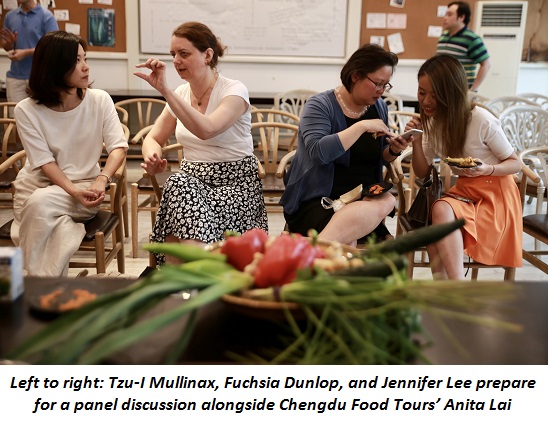 After the meal, Jennifer 8. Lee introduced her 2014 documentary, The Search for General Tso, which explores two things. There's the search for the origin of General Tso's Chicken – deep-fried chunks of chicken in a bright sauce of vinegar, sugar, soy, sherry, garlic, and hot chili peppers. It is a dish that is wildly popular at the more than 40,000 Chinese restaurants in America. It originated in Taiwan, then worked its way to New York City, and then throughout many of the 40,000 Chinese restaurants in the United States.
The story of the Americanization of the dish is equally the story of the assimilation of the Chinese restaurateurs themselves in a country that first hated them, then excluded them, and now has a slightly fraught relationship with them, which shifts depending partly on US-China relations. She explained that the first Chinese immigrants to the United States worked in restaurants and laundries because those were two of the few areas that were open to them. She also asked the question of how Chinese Americans consider themselves? Chinese first? American first?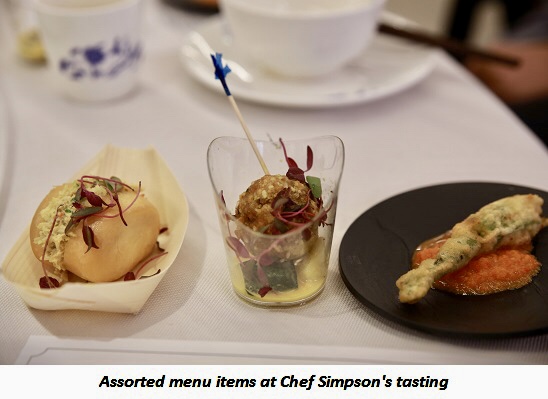 Ms. Lee, who produced the documentary, said, "I became very comfortable with being Chinese, not as a person from the nation-state of China," she said after the screening, "but from the sense of [Chinese]-ness that transcends all the governments that rise and fall – I mean, how many governments have risen and fallen? And one thing that unites us over time, is that we all like dumplings, for example." An ethnic Chinese person from Mexico and another from New York, she argues, might not share a language or life experience, but they certainly share a love for dumplings.
A panel, moderated by Ambassador Julia Chang Bloch, the founding president of USCET, followed with a discussion on the global Chinese diaspora, and the meaning of food in terms of building identities, connecting cultures, and breaking down barriers. The panelists asked: Could a rising China assume leadership over the world's disparate ethnic Chinese communities, or would the localized essence that Jennifer identifies so strongly with win out? As far as Tzu-I is concerned, there is a conclusive answer: ethnicity and politics can be decoupled; Chinese Americans are no less American than apple pie.
Shanghai
After Chengdu, the USCET team flew to Shanghai, and opened June 9 with Ms. Lee signing copies of her book, "The Fortune Cookie Chronicles: Adventures in the World of Chinese Food," (2008). On June 10, Ambassador Bloch hosted a dinner at the Bites and Bottles – O restaurant, owned by Anthony Chow, an Australian-Chinese chef, who worked with Mr. Wong on the menu. It started off with a Pu Pu Platter including Five-Spices Chicken Lollipop, Deviled Tea Eggs, Ma La Nachos, Black Bean Pork Buns, followed by General Tso Duck, Orange Beef, Imperial Black Rice Prawn Risotto, and Fortune Cookies. The cookies did not originate in China, and in fact are rarely seen in China, but are ubiquitous in Chinese American restaurants.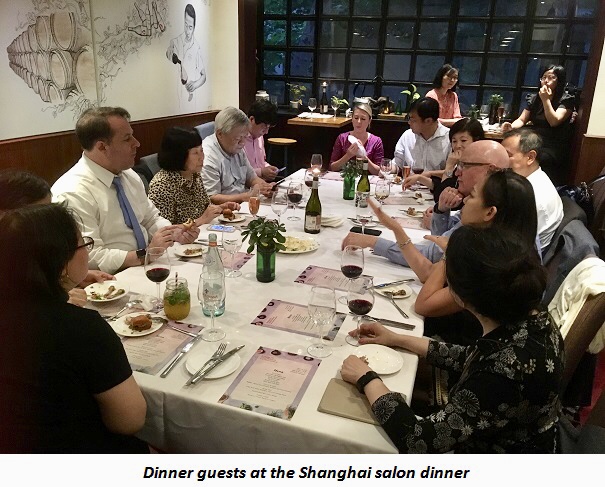 The discussion that followed was serious. How can the United States and China extract themselves from the spiral of growing mistrust currently gripping their bilateral relationship? James McGregor, chairman of APCO Worldwide's greater China region and USCET Advisory Council member, said the groundwork for a stronger partnership already exists, but is being constrained by "the political DNA" in both current administrations. Once a younger cohort of leaders arises in Washington and Beijing alike, natural and mutually-beneficial US-China collaboration will have a fair chance to reassert itself. "We have extreme leaders in both capitals," he said. "Both places are also feeling victimized." With time however, this may shift towards healthier narratives based on the notable accomplishments that China and the United States have achieved together in the name of shared prosperity, such as those in commercial relations and global governance.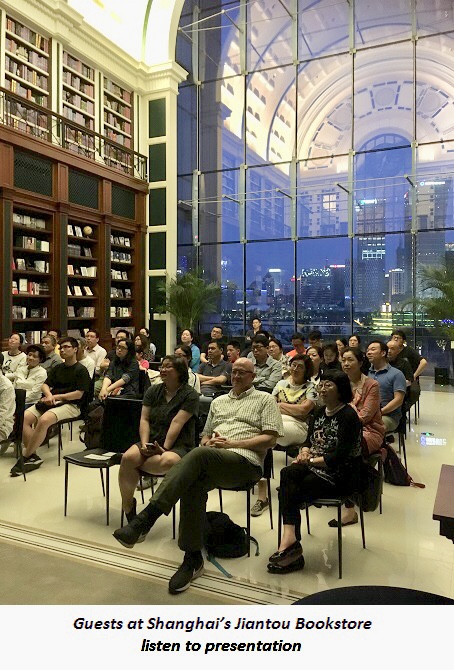 Many of the guests were Chinese scholars of American studies, and some told their stories of three generations of Sino-American friendship. Fudan University's Ni Shixiong said that after the Cultural Revolution, he was among the first visiting scholars to study in the United States, having done post-doctoral research at Harvard from 1980 to 1981. His student, Shen Dingli, remembered that Ni took him on his first visit to the American Consulate in Shanghai. And Shen's student, Tiger Zhang, is now an America-watcher at the Shanghai Institutes for International Studies. Faye Chunfang Fei, Director of East China Normal University's American Studies Center, was part of a 1978 student exchange between China and the United States. That trip inspired her to become a playwright, and to study how cross-cultural theater can create a dialogue that may help overcome mistrust.
When asked to describe the state of US-China relations in a single word, the air was filled with mostly negative comments: "dangerous, strange, competition, critical, staggering, unnecessary, pivotal, and nationalist." However, most people also had long-term cultural ties between the United States and China. Although the current political and economic tensions throttling trans-Pacific relations are severe, they will not necessarily destroy the bonds formed by individual Chinese and Americans, most of the guests believed. Ideally, these bonds may result in the rebirth of friendly dialogue in the future. If the Chengdu event showed how cuisine can root trans-Pacific relations in a shared culture, then the Shanghai dinner demonstrated that these culinary ties can be a framework for fostering stronger diplomatic collaboration, building understanding, and dispelling mistrust.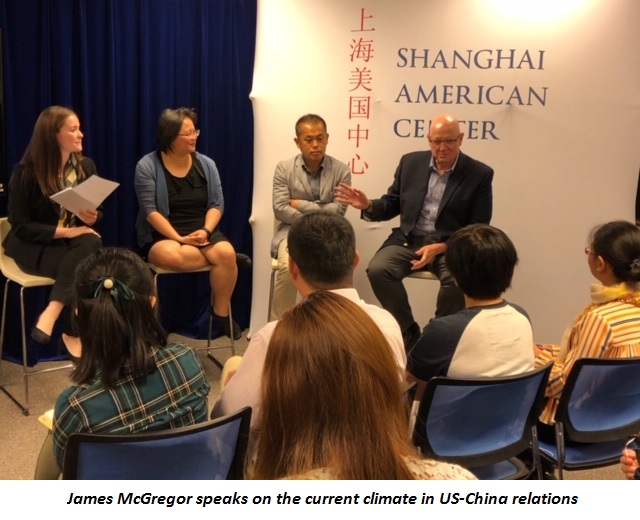 For more dialogue, the US Consulate in Shanghai hosted USCET at the Shanghai American Center for a panel discussion on identity, food, and shared US-China culture. The panelists included Ms. Lee, Mr. Wong, and Mr. McGregor. The moderator was Ashley McDonough, a representative of the US Agricultural Trade Office. The topic was how food is our common ground.
Food is partly a story of trade. Behind every fusion dish and inventive Chinese American dish lies international trade, transport, and, sometimes, cultural exchanges. Aiming to introduce Chinese chefs to American ingredients, Ms. McDonough's office hosted an "American Culinary Bootcamp" in 2017, which brought around 40 Chinese chefs and students at culinary schools from Shanghai and elsewhere in China to the United States to introduce them to American ingredients, and to show how they can be incorporated into Chinese cooking. With a special focus on Alaskan seafood, the program looked to build curiosity and goodwill on the part of Chinese chefs towards what the American agricultural scene can offer.
Beijing
USCET's 2019 Culinary Diplomacy project ended in Beijing. Ms. Lee gave a lecture, and screened her film, The Search for General Tso, at Beijing Foreign Studies University on June 13. On the following day, she, Mr. Wong, and the USCET team met at Hutong Cooking School for an evening of food demonstration, tasting and discussion.
Mr. Wong not only prepared his three signature dishes, General Tso's chicken balls, zucchini blossom dumplings and crab rolls, he surprised the audience with a special tasting of Chop Suey and also explained the techniques used to cook each dish. His food is not "authentic" to its roots in East Asia, but it is an authentically American style of Chinese cooking, he said.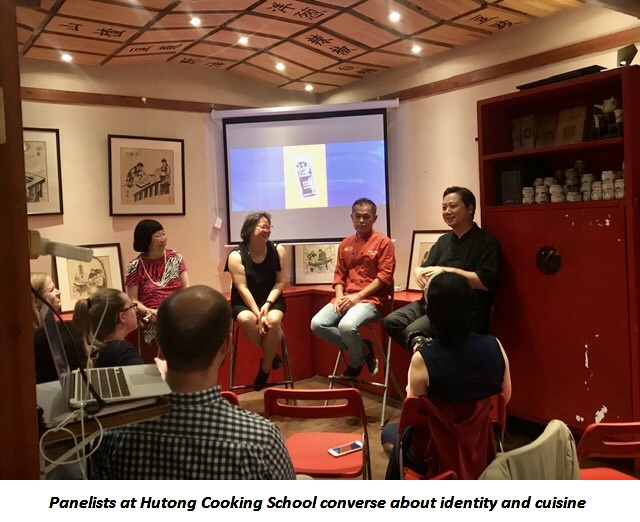 Ms. Lee spoke of the history of Chinese cuisine in the United States, which is the story of Chinese immigration, a tale that continues to be written. Ambassador Bloch brought Jennifer, Simpson, and Sun Tze, prominent Chinese-American international relations scholar, together to talk about identity and food in the lives of Asian Americans. "Similarly to General Tso's chicken," Jennifer said "the idea is when you see people who are Chinese American, they will often think that person is foreign. But when you close your eyes, listen to our accent, listen to how we talk, we're 100% American. In a way, General Tso's chicken represents our existence in America."
From Sichuan to Beijing, from the bustling alleys of New York to the ancient streets of Chengdu, food has always been something so essential to the human experience that in comparison, borders and political tensions can seem distant, abstract, maybe even trivial. For Chinese communities around the world, cuisine is a way to preserve ancestral roots while at the same time paving inroads to their new homes. Culinary diplomacy is about more than just sharing a meal – it's a celebration of the cultural links that bind nations together, both now, and in the future.
For more pictures, please click on this link.