On the evening of August 8th, 2022, USCET celebrated ten years of its Asian American Authors Series with a webinar featuring award-winning author Gish Jen. Jen, who was part of the series' successful launch at Beijing Foreign Studies University ten years ago, returned to discuss her latest book of short stories, Thank You, Mr. Nixon, in conversation with Ambassador Julia Chang Bloch, USCET's Executive Chair. The pair also spoke about Jen's experience as a second-generation Chinese-American author witnessing the ups and downs of U.S.-China relations.
Jen began the conversation by reading aloud from the book's opening paragraphs. From the perspective of a Chinese girl, now in heaven, writing to Mr. Nixon in hell, this deceptively cheery letter details how Chinese authorities meticulously staged Nixon's visit to China. Jen also discussed the symbolism of the famous red coat worn by first lady Pat Nixon, which she believes foreshadowed China's gradual move toward capitalism.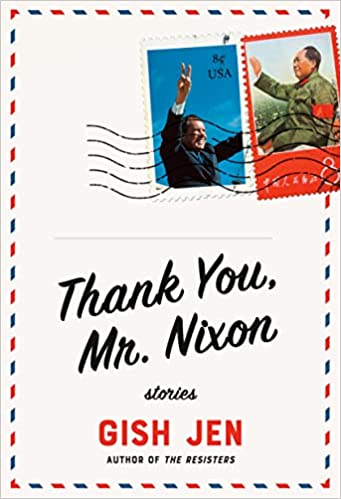 In the remaining stories, Jen continues the fictional journey through U.S.-China relations with vivid characters and storylines that span several generations, capturing the mixed emotions accompanying the past 50 years. Some of the characters appear several times over the decades in different stories. The collection was published in February 2022, just in time for the 50th anniversary of Nixon's visit in February 1972.
The second story is set in the early years after the normalization of US-China relations in 1979 and is a mostly funny look at an American family on a group tour in China. Jen recalled that the early 1980s were also significant in her life, as it was when she earned her MFA in fiction at the University of Iowa Writers' Workshop, after deciding to leave Stanford Business School. Nixon's visit also opened the door for Jen herself to visit China, where she was able to reconnect with family and discover one of the major subjects of her writing career: cultural differences.
She added that cultural differences between the United States and China were part of her own relationship with immigrant parents, especially as she transitioned from a career in business to a career in writing. Jen and Ambassador Bloch shared a laugh about what it means to be a "good Chinese daughter" and the pressure to choose one of the few approved career paths like lawyer or doctor.
"You only live once. I wish writing were a more secure profession…but there isn't a bone in my body that wishes I spent my day [as a doctor] in a hospital" Jen replies. "It's my job to be interested in things, look into things that are mysterious and unknowable, and think about them—this is an amazing way to spend your life."
Jen reflected that when she was beginning graduate school, it was practically a given that she would never become a mainstream writer because she represented such a small minority at the time. However, she was also in a position to represent Asian Americans in ways that had not been done before, and draw from her own experiences growing up Chinese-American in the 1960s. Today her works can be found in the New Yorker, the Atlantic Monthly, and dozens of other periodicals, anthologies, and textbooks.
You can read more about Gish Jen's life and work in Understanding Gish Jen, a book by Jennifer Ann Ho published by the University of South Carolina Press.