Edition #2 | American Studies Network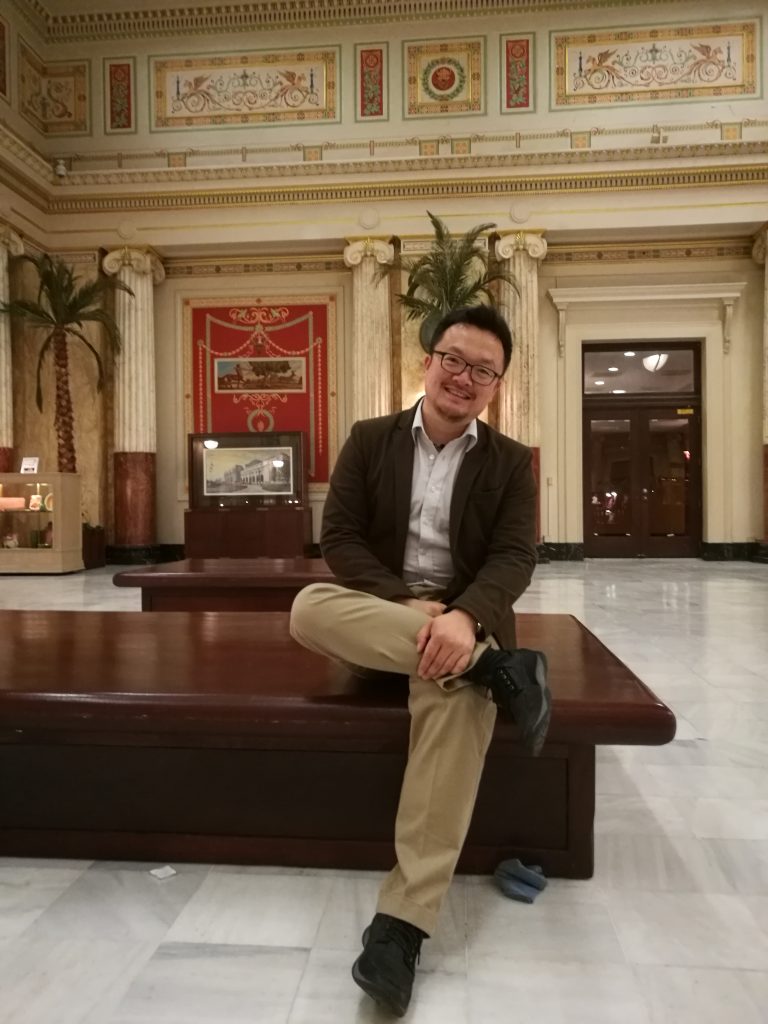 For the second installment of our USCET Alumni Series, we are highlighting Chen Juebin. Chen Juebin is actively involved with the American Studies Center, Co-Director of InfoUSA, and professor at Beijing Foreign Studies University (BFSU). Dr. Chen has been involved with USCET since 2007 and continues his involvement with USCET programs and the advancement of American Studies today.
With the current state of US-China relations, Dr. Chen says that now is the most important time for young people to learn about American Studies. "People to people exchanges, such as those offered by USCET, allow participants the opportunity to actually learn about the American people and ground their textbook knowledge in reality." In 2015, Chen Juebin participated in the Chinese Leaders in American Studies (CLAS) Fellowship allowing him to visit the United States for the first time. The Chinese Leaders in American Studies (CLAS) Fellowship is designed to nurture Chinese academics in American Studies to improve the depth and sophistication of their teaching and study of the US, and ultimately, the quality of the Chinese public's understanding of America. After learning about America for over sixteen years at the time of the fellowship, Dr. Chen was excited by the itinerary and CLAS program offerings. He described visiting Howard University, volunteering on K Street, and meeting the head archivist of the National Archives as personal highlights. "Julia [Julia Chang Bloch] was able to have us watch a US Congressional Committee meeting about the South China Sea, and the committee chairperson even greeted us – a group of no-name scholars, which really surprised me. Opportunities such as the CLAS fellowship are rare for young scholars in China, as most state-supported exchange programs to the US are entirely academic and focused on research."
Dr. Chen's interest in bolstering young American Studies scholars is why he has helped to coordinate USCET's American Studies Network (ASN) annual conferences since 2009. "The ASN Conference is the only English language American Studies conference in China and is a great opportunity for young scholars to get involved in the discipline."
The ASN Annual Conference gives scholars of American Studies, both from China and the greater Asian region, a chance to come together to network, share research, and develop joint projects. Participants come from universities throughout China, and graduate students are also encouraged to submit papers for graduate student panels and attend other sessions of the conference to further their own scholarship. Distinguished speakers from the US are also invited to participate as speakers and panelists.
The American Studies Center at BFSU, established in 1979, is the oldest in China and USCET was invited to celebrate its 40th anniversary in 2019 on the BFSU campus. The center offers a broad curriculum with topics ranging from history and sociology to politics, economics, and trade to culture and movie studies. As professor at BFSU, Chen notes how the ASN conferences support his students and the American Studies Center. "Our students gain confidence from their participation in the ASN conference as they see that they can discuss these topics in English with their peers and deliberate with senior scholars."
Dr. Chen helps to administer the Mei Renyi Essay Contest which offers graduate students in American Studies across China the opportunity to submit their work for critical evaluation. USCET established the Mei Renyi Essay Contest in recognition of Professor Mei Renyi's contribution to the field of American Studies. Mei Renyi is considered by USCET Founding President Julia Chang Bloch to be the 'Dean of American Studies' in China. The winners of the essay contest receive full funding to attend the Annual ASN Conference and special recognition at the conference. Chen says, "the Mei Renyi Essay Contest is a great opportunity for graduate students to get involved in the field of American Studies and gain more confidence when discussing their research and ideas."
In addition, Dr. Chen serves as Co-Director of InfoUSA at BFSU which is an American Cultural Center on BFSU's campus in partnership with USCET. InfoUSA@BFSU has hosted many successful events on BFSU's campus, including annual American Weeks, lectures by Fulbright Scholars, Pulitzer-Prize winning Journalists-in-Residence, American Film Series, and Asian American Authors Series.  The Reading Room is full of valuable resources to discover more about the US.
Chen Juebin is optimistic about the future of American Studies in China. "Many scholars were interested in structural issues such as politics or the economy, however more and more of my students are interested in the underlying issues in US-China relations and the fundamentals of American society and people." Although the US and China are facing difficult times now, there remains room for cooperation and understanding.