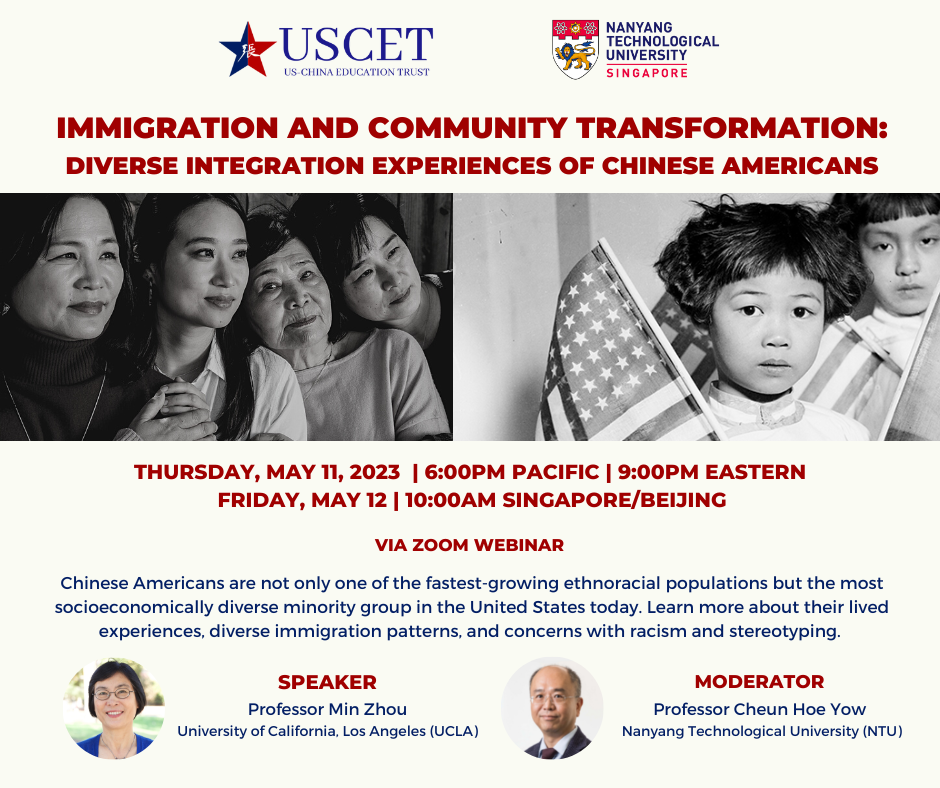 International migration has transformed Chinese America. Chinese Americans are not only one of the fastest-growing ethnoracial populations but also the most socioeconomically diverse minority group in the United States today. This ninety-minute webinar will address issues of immigration and integration shaping contemporary Chinese America, including the reception of Chinese immigrants and their offspring in society, their lived experiences, concerns with racism and the model minority stereotype, and contributions to American society within their larger transnational and diasporic contexts. Bringing together two internationally renowned scholars, Professor Min Zhou of the University of California, Los Angeles (UCLA) as speaker and Professor Cheun Hoe Yow of Nanyang Technological University (NTU) as moderator, the event will also address the Chinese American community's connections to diasporic communities in Singapore and other Southeast Asian countries to illustrate the realities of the Chinese diaspora across nation-state borders.
Speaker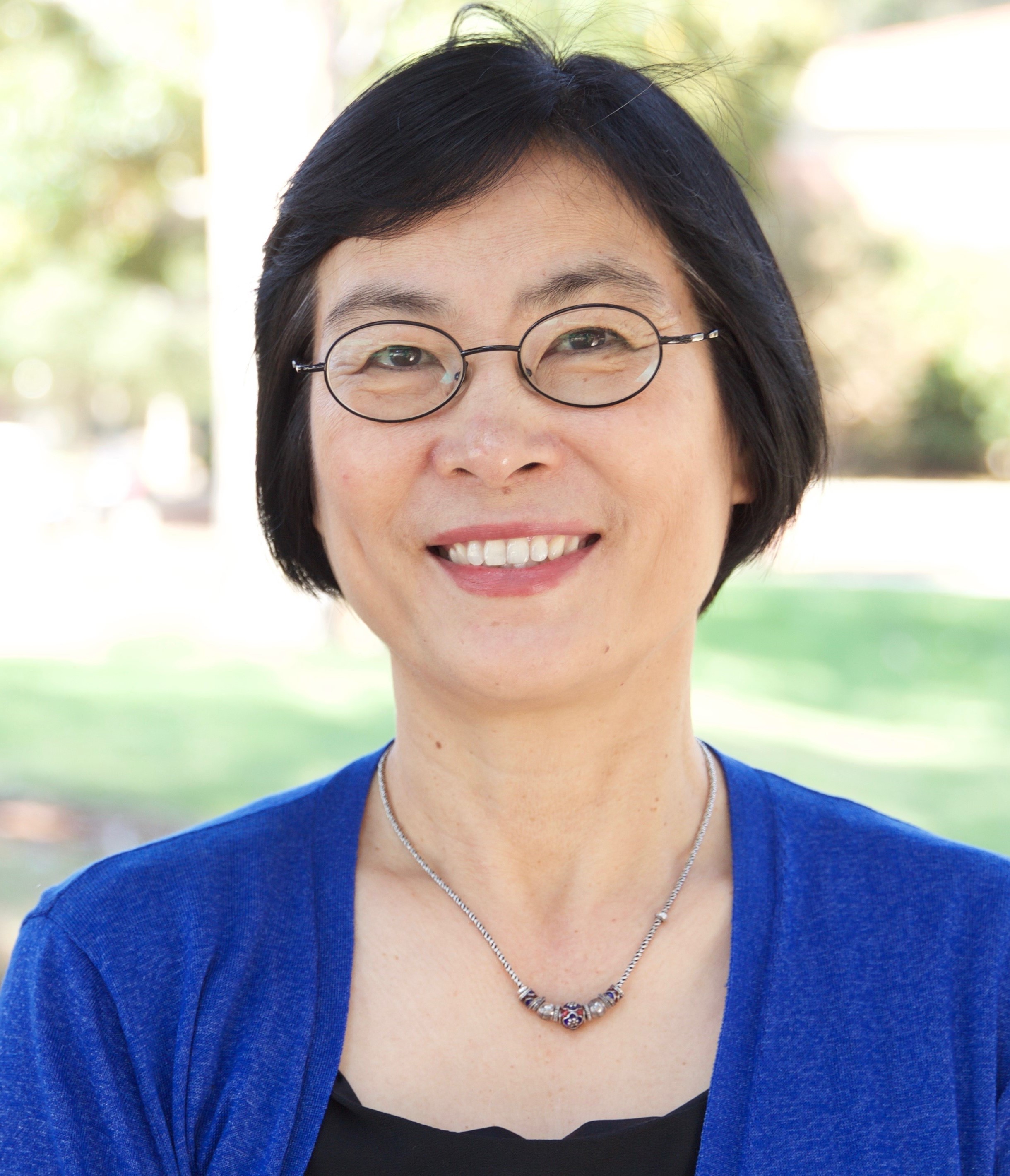 Dr. Min Zhou
University of California, Los Angeles
Dr. Min Zhou is Distinguished Professor of Sociology and Asian American Studies, Walter and Shirley Wang Endowed Chair in US-China Relations and Communications, and Director of the Asia Pacific Center at the University of California, Los Angeles. She is a member of the American Academy of Arts and Sciences. Dr. Zhou's main research areas are in migration & development, race and ethnicity, Chinese diaspora, and the sociology of Asia and Asian America. She has published widely in these areas, including the award-winning book The Asian American Achievement Paradox (with Lee, 2015), The Rise of the New Second Generation (with Bankston, 2016), Contemporary Chinese Diasporas (ed., 2017), and Beyond Economic Migration: Historical, Social, and Political Factors in US Immigration (eds., with Mahmud, 2023). She is the recipient of the 2017 Distinguished Career Award of the American Sociological Association (ASA) Section on International Migration and the 2020 Contribution to the Field Award of the ASA Section on Asia and Asian America.
Moderator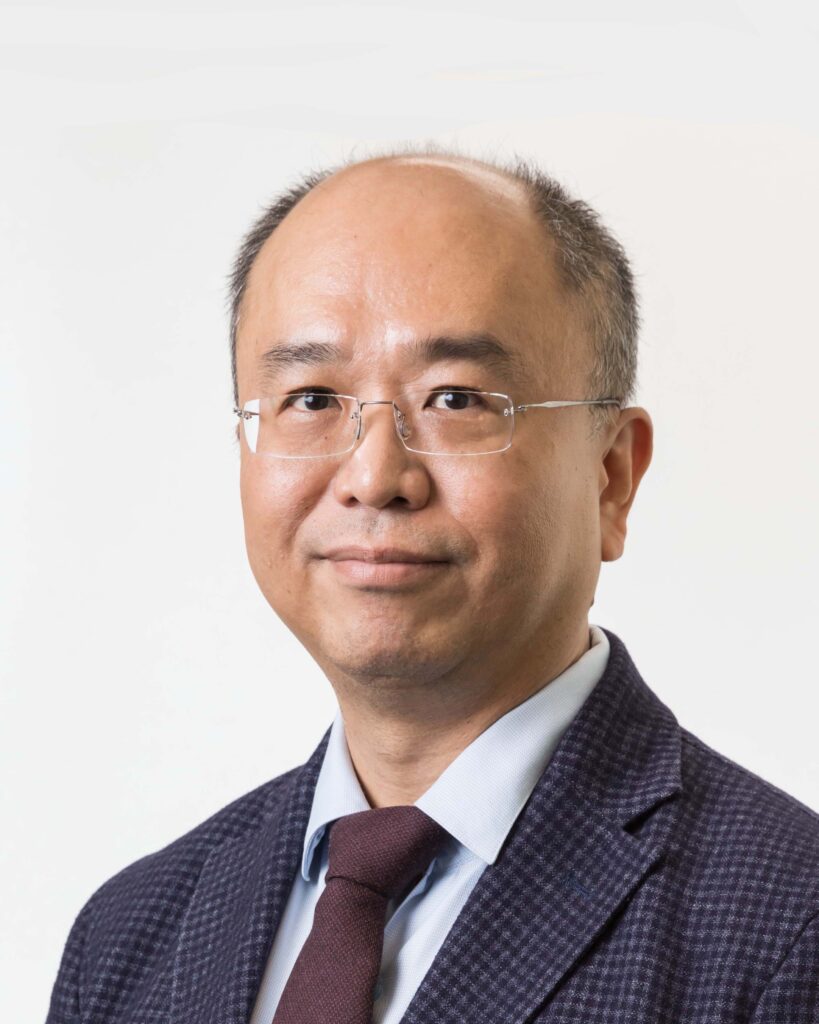 Dr. Cheun Hoe Yow
Nanyang Technological University, Singapore
Cheun Hoe Yow is associate professor at Nanyang Technological University, Singapore, where he is Director of the Chinese Heritage Centre and Director of the Centre for Chinese Language and Culture, and where he was the Head of the Chinese Program (July 2016-March 2022).  He is a chief editor for Huaren Yanjiu Guoji Xuebao (International Journal of Diasporic Chinese Studies) and book review editor for Journal of Chinese Overseas.  His academic areas include Chinese migrants and diaspora, qiaoxiang (Overseas Chinese homelands) ties, and diasporic Chinese literature.  He was a Fulbright scholar at the Centre for Comparative Immigration Studies, University of California San Diego, 2013.  Recent books include New Chinese Migrants in Singapore: A Question of Citizenship (2021, in Chinese); Singapore Comparative Literature Compendium (2021, co-edited with Sim Wai Chew); Migration Trajectories and Diasporic Discourses: Multiples Contexts of Ethnic Chinese in Singapore and Malaysia (2014, in Chinese); and Guangdong and Chinese Diaspora: The Changing Landscape of Qiaoxiang (2013); His articles appear in journals such as Journal of Contemporary China, Modern Asian Studies, Asian Ethnicity, Cross-Cultural Studies, Changjiang Xueshu, and Waiguo Wenxue Yanjiu.  He was President, Singapore Society of Asian Studies, from 2018 August to 2020 December.