Trenton Marsolek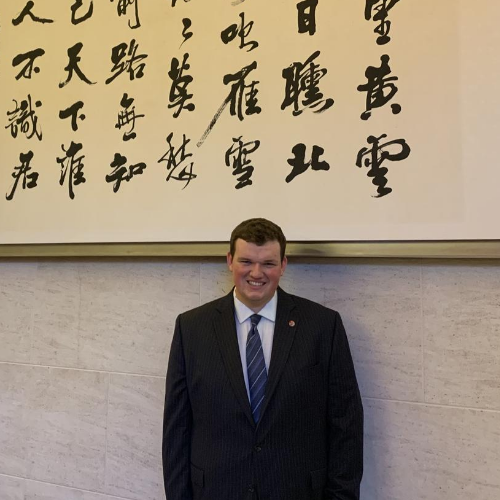 Trenton Marsolek is a Consultant for USCET assisting with the Live From Washington series, website development, communications, research, and more. He is attending Tsinghua University in Beijing for an L.L.M. in Chinese Politics, Foreign Policy, and International Relations. Trenton earned his B.A. in International Affairs from American University in Washington, DC in 2020.
Prior to working at USCET, Trenton completed internships at the Institute for China-America Studies, the Embassy of the Royal Hashemite Kingdom of Jordan, and served as a volunteer at the Office of Presidential Correspondence at the White House. He was a Development Associate for Global China Connection, an international student-run nonprofit focused on engagement with China, and a Student Ambassador for the US-China Strong Foundation. Trenton has several successful business ventures including a consulting business with clients in the United States and China and a summer storage business.
Trenton's interest in US-China relations and international educational exchanges began when he participated in the US Department of State's National Security Language Initiative for Youth (NSLI-Y) program in 2015. He lived in Sichuan Province for three months where he began learning Chinese from scratch at Deyang Foreign Languages School, eventually becoming highly proficient.
---
Trenton Marsolek(中文名:唐朋)是中美教育基金的顾问。他是协助"Live from Washington"云会讲座,网站开发,交流,研究等。唐朋目前在清华大学读硕士研究生,中国政治,外交政策和国际关系专业。他2020年毕业于美国华盛顿特区的美利坚大学,获得国际关系学士学位。
来USCET之前,他在中美研究中心、约旦驻美国大使馆和白宫总统书信处部实习了。他曾是Global China Connection的发展助理,一家国际学生管理的非营利组织,致力于与中国的交往,并且是美中坚强基金会的学生大使。 唐朋拥有数家成功的企业,包括与美国和中国客户的咨询业务以及夏季仓储业务。
唐朋对美中关系和国际教育交流的兴趣始于2015年,他参加了美国国务院的国家青年安全语言计划(NSLI-Y)。他在四川省过了三个月,从那里开始学习中文 在德阳外国语学校从零开始,最终变得精通。