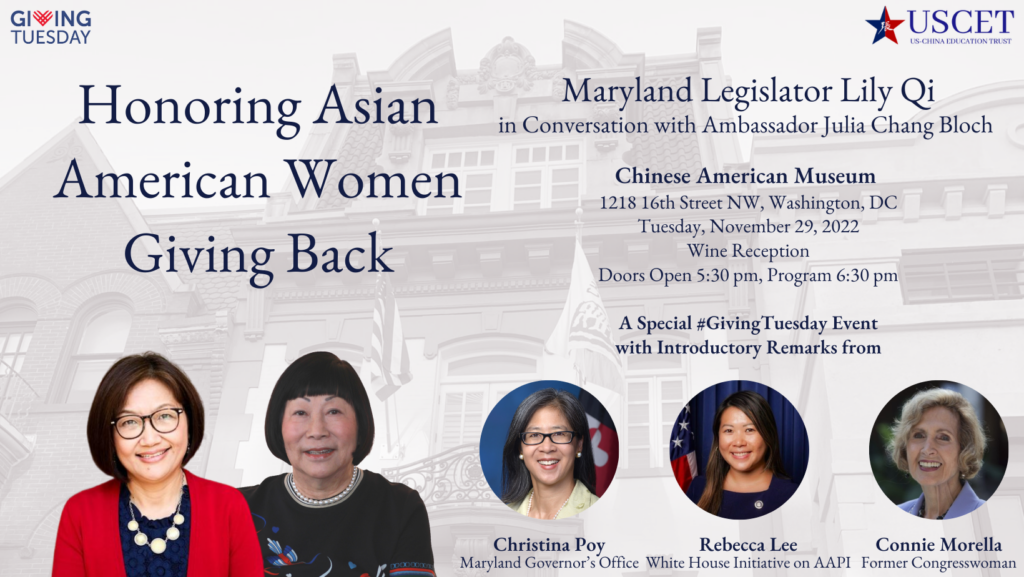 What motivates Asian American women to run for elected office, braving both the glass ceiling and the bamboo ceiling, and what challenges do they face there? Maryland Delegate Lily Qi, the first Chinese immigrant to serve in the Maryland State Legislature and twice recognized as "Legislator of the Year," will discuss these issues with Ambassador Julia Chang Bloch, founder of USCET and the first Asian American ambassador in US history. Community leaders from DC and Maryland will make opening remarks, including Congresswoman Connie Morella, Maryland representative in the US Congress from 1986 to 2002, and experts on AAPI affairs from the White House and Maryland Governor's Commission. This program will also recognize the contributions of Pauline Woo Tsui, co-founder with Ambassador Bloch of the Organization of Chinese American Women in 1977— the first national organization dedicated to advancing Asian American women in public service. Lily Qi was just reelected to a second four-year term on November 8. Join us for a dynamic program!
Introductory Remarks
Christina Poy, Administrative Director, Maryland Governor's Commission on Asian-Pacific American Affairs
Rebecca Lee, Deputy Director, White House Initiative on Asian Americans, Native Hawaiians, and Pacific Islanders
Connie Morella, US Ambassador (ret.) to the OECD and Member of the US House of Representatives [MD-8]
Featured Speakers
Lily Qi, Member of the Maryland House of Delegates Representing the 15th District
Julia Chang Bloch, Founder and Executive Chairman of the US-China Education Trust
Event Information
In-Person Attendees
This event will take place at the Chinese American Museum in Washington D.C. (1218 16th Street NW). Doors open at 5:30pm with a reception featuring beer, cider, wine, non-alcoholic beverages, and finger foods and time to view the museum's exhibits. The program will begin promptly at 6:30pm. Additional details will be sent out via email closer to the event.
Online Attendees
The program will be streamed via Zoom Webinar and an individual link will be sent out via Eventbrite and email.
Support USCET This #GivingTuesday
Please consider making a financial contribution to this #GivingTuesday event to support USCET's important programs recognizing the contributions of Asian Americans to the United States. All donors of $100 or more will be recognized on the event program and on our website.
Questions
If you have any questions, please email info@uscet.org. Thank you!
---
Choose Your Donation Impact and Amount
Event Tickets (min. $35 per person)

Friends ($100 and up)

Contributors ($500 and up)

Supporters ($1000 and up)

Sustainers ($5000 and up)

If you are unable to join us on November 29, please consider making a gift here.

We appreciate all of our generous supporters and will list (with permission) those individuals and companies who support USCET's work this Giving Tuesday on the event program and on our website.

Thank You!